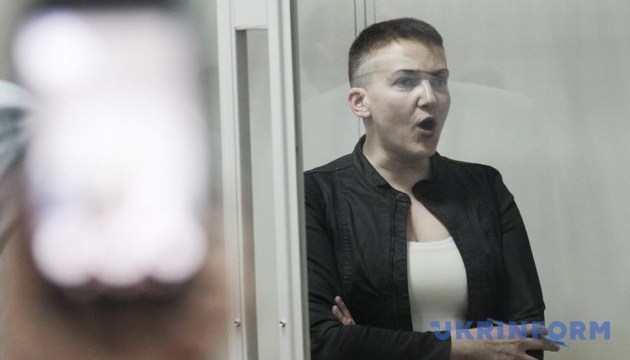 Kyiv Court of Appeal leaves MP Savchenko in custody until Sept 7
Kyiv Court of Appeal has left Ukrainian MP Nadiya Savchenko in custody until September 7.
A respective decision was made by a panel of judges on August 9, lawyer Kostiantyn Hloba told journalists.
"A panel of judges of Kyiv Court of Appeal cancelled a ruling of the Shevchenkivsky District Court, but extended the same measure of restraint. In fact, the same measure of restraint that was chosen earlier remains in force," he said.
Hloba added that according to the ruling of the Kyiv Court of Appeal the preventive measure for Savchenko in the form of arrest would be in effect until September 7 this year.
As Ukrinform reported, previously the Shevchenkivsky District Court of Kyiv upheld a petition from prosecutors to extend the measure of restraint for Savchenko in the form of arrest until September 10.
On March 22, the Verkhovna Rada gave its consent to the prosecution, detention and arrest of Ukrainian MP Nadiya Savchenko. She is charged with committing actions aimed at the violent overthrow of the constitutional order and seizure of state power, encroachment on the life of a state or public figure, preparation for a terrorist attack, assistance to a terrorist organization and illicit handling of weapons, ammunition and explosives.
On March 23, the Shevchenkivsky District Court in Kyiv selected the measure of restraint for Savchenko in the form of holding her in custody until May 20 without the right to post bail. On May 15, it extended the arrest for two more months, until July 13, and later until September 10, 2018.
op