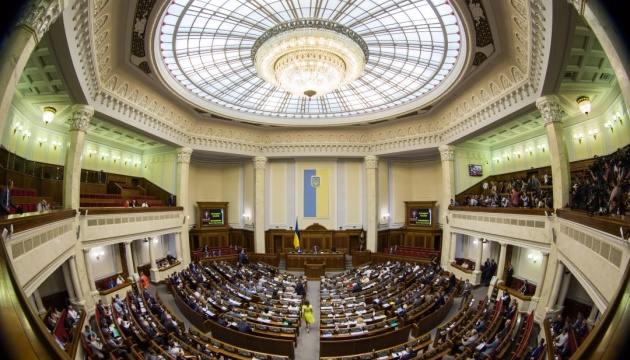 Rada urges EU to intensify pressure on Russia due to political prisoners
The Verkhovna Rada, Ukraine's parliament, has appealed to the European Union institutions to deepen cooperation between Ukraine and the EU and to intensify pressure on Russia and release Ukrainian political prisoners of the Kremlin.
A total of 233 MPs voted for a respective resolution, No. 8551, on Thursday, according to an Ukrinform correspondent.
Verkhovna Rada First Deputy Chairwoman Iryna Gerashchenko said that the appeal was devoted to the holding of the 20th EU-Ukraine summit in Brussels next week. According to her, the document identifies Ukraine's commitment to the path of European integration, but it emphasizes the importance of the fact that the European Union also has commitments to Ukraine.
"We emphasize the importance of preserving restrictive measures adopted by the European Union immediately after annexation of the Autonomous Republic of Crimea and the city of Sevastopol, temporary occupation of the Ukrainian Donbas, as well as the importance of supporting international efforts aimed at a peaceful settlement of the conflict on the basis of the Minsk agreements," reads the parliament's address to the EU institutions.
People's deputies also urged European partners to intensify international pressure on the Russian Federation regarding the immediate and unconditional release of all Ukrainian citizens illegally held on the territory of Russia and illegally imprisoned for political reasons, as well as the immediate release of hostages held in temporarily occupied territories in Donetsk and Luhansk regions, as well as in the Autonomous Republic of Crimea and the city of Sevastopol.
In addition, parliamentarians stressed the need for further pressure on Russia to grant its consent at the UN Security Council to the deployment of a UN peacekeeping force to Donbas, first of all along the Ukrainian-Russian state border.
At the same time, the Verkhovna Rada assured that the parliament and the government were ensuring the implementation of an integral European integration policy, including on the fulfillment by Ukraine of obligations under the Association Agreement with the EU, and asked the European Union to facilitate the maximum use of the opportunities for Ukraine's integration into the EU's internal market in the areas of common interest that are covered by this agreement.
"The Verkhovna Rada of Ukraine recognizes the need to form a common vision of ways to integrate Ukraine into the Digital Single Market of the European Union, to strengthen cooperation in the customs and energy sectors," the statement says.
Parliamentarians, in particular, expect the EU to confirm the strategic role of Ukraine as a partner state for gas supplies, as well as to take measures to prevent the construction of a politically motivated project of the Nord Stream 2 transit gas pipeline.
The Verkhovna Rada also urged the EU, together with other international donors, to develop a new integrated strategy of supporting Ukraine on the basis of ideas put forward in the concept of the European plan for Ukraine.
op