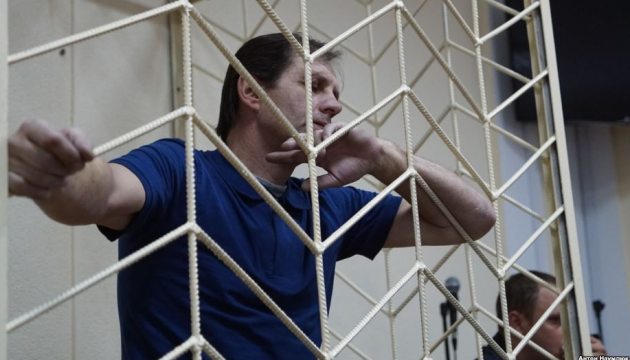 Crimean 'court' sentences political prisoner Balukh to 5 years in prison
Kremlin-controlled Rozdolne District Court in Crimea has sentenced Ukrainian activist Volodymyr Balukh, accused of allegedly beating a head of the temporary detention facility, to five years of imprisonment and to a fine of 10,000 rubles, the Hromadske media outlet has reported.
Such decision was made by the so-called "judge" in view of the previous verdict for allegedly "storage of ammunition", according to which Volodymyr Balukh was sentenced to three years and seven months of imprisonment and to a fine of 10 non-taxable minimum incomes.
On June 25, Balukh's lawyer said that the health state of the political prisoner had deteriorated.
On March 19, Balukh went on a hunger strike in protest against the trumped-up case. During the hunger strike, he lost 30 kilograms of weight.
Russia's FSB detained Balukh on December 8, 2016, stating that he possessed ammunition.
In August 2017, the court sentenced him to three years and seven months of imprisonment in a low-security penal colony, as well as to a fine of ten non-taxable minimum incomes. Balukh's verdict was canceled during the consideration of the appeal. The case was sent for reconsideration.
On December 1, the measure of restraint for the Ukrainian activist was changed to two-month house arrest.
Balukh's defense team believes that he became a victim of repression for his pro-Ukrainian views - due to the flag of Ukraine in the yard of his house.
ish