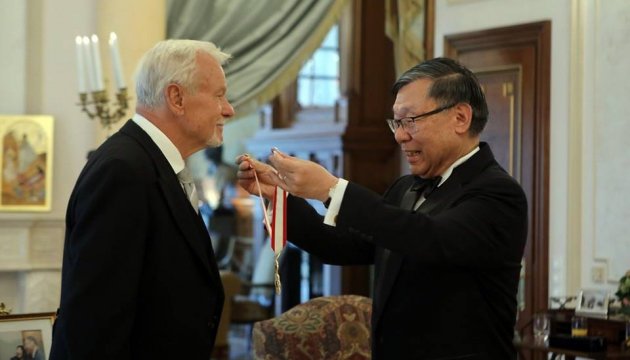 First Ukraine's ambassador to Japan receives imperial award. Photos
First ambassador of independent Ukraine to Japan Mykhailo Dashkevych received the Japanese imperial award - the Order of the Rising Sun - for his personal contribution to the development of bilateral Ukrainian-Japanese relations.
As an Ukrinform correspondent reports, the solemn ceremony took place at the residence of the Ambassador of Japan to Ukraine on Thursday.
"Today is a happy day for me as Ambassador Sumi has just awarded me the imperial reward – the Order of the Rising Sun, Gold and Silver Star – for a significant contribution to the promotion of friendly relations and mutual understanding between Ukraine and Japan. I would like to thank the Government of Japan for this important award, which is a great honor for me and high respect for the Ukrainian Foreign Ministry, which delegated me to Japan as the first ambassador of Ukraine in January 1995," Dashkevych said.
"Today, based on the efforts of Ambassador Dashkevych, Japan and Ukraine have not just friendly relations but close and strategic partnership. After the revolution on Maidan and Russian aggression, Japan continues to support Ukraine's territorial integrity and impose sanctions on Russia," Ambassador of Japan to Ukraine Shigeki Sumi stressed.
Tokyo is working with the Ukrainian people to implement the economic and political reforms in Ukraine, which shows that "Japan wants to be a real friend of Ukraine in these difficult times", Ambassador Sumi noted.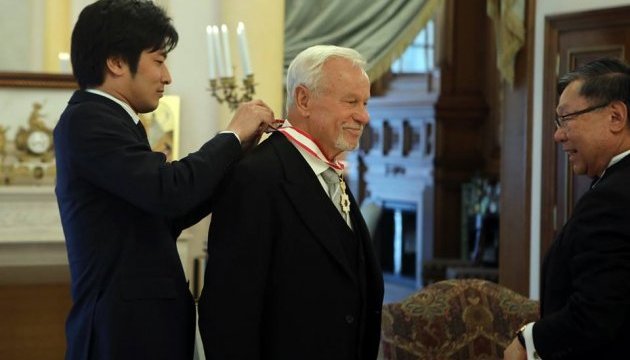 ol