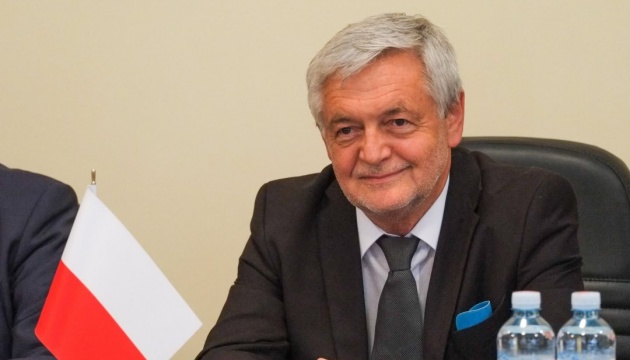 Ambassador Pieklo: Poland is genuine ally of Ukraine
Poland is a genuine ally of Ukraine and is trying to provide the greatest possible assistance, so Ukrainian politicians should focus more on common interests and maintaining unity between the countries.
Polish Ambassador to Ukraine Jan Pieklo said this at the 11th Kyiv Security Forum, organized by Arseniy Yatsenyuk's The Open Ukraine Foundation, an Ukrinform correspondent reports.
"We support the democratic stability of Ukraine at various possible levels: through military exercises, establishment of the Ukrainian-Polish-Lithuanian brigade, which is located on the border with Poland and is completely ready for action, we give recommendations and consultations through an ad hoc committee on defense, provide financial support for some projects for internally displaced persons in Donbas in Slovyansk, Kramatorsk, Mariupol. Please, keep in mind and do not forget that Poland is a genuine ally of Ukraine, and we try to do everything possible for Ukraine," Pieklo said.
In this context, he noted that some Ukrainian politicians considered Poland a country that generates problems in bilateral relations. In his opinion, such an approach is not constructive.
We should focus on our common interests and unity as Russia is interested in violating our unity and creating problems, the diplomat stressed.
ol