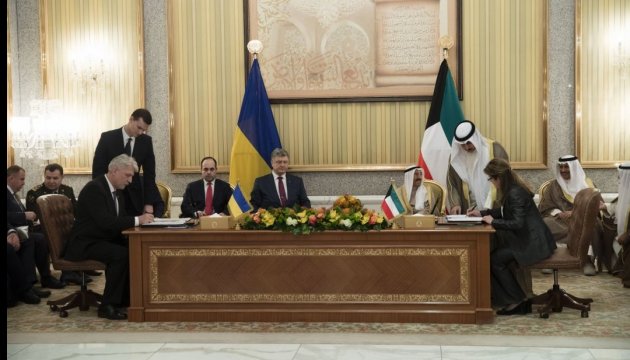 Poroshenko comments on Russian presidential election in occupied Crimea
The Russian presidential election in the occupied Crimea is illegal, and the only head of state to be elected by Crimea is the president of Ukraine.
Ukrainian President Petro Poroshenko said this during his visit to Kuwait, while commenting on the illegal Russian election in the occupied peninsula, an Ukrinform correspondent reports.
"You know that over the past few days I had intense international contacts where we received assurances about the non-recognition of the Russian presidential election in Crimea, and the only president to be elected by Crimea is the president of Ukraine. I have no doubt about that," Poroshenko said.
Protests against the Russian presidential election in illegally annexed Crimea were held near Russian diplomatic establishments in Kyiv, Odesa, Kharkiv and Lviv on March 18.
The Ministry for Temporarily Occupied Territories and Internally Displaced Persons of Ukraine previously condemned the decision of the Russian occupation administration to hold the presidential election on March 18, 2018, in the territories of the Autonomous Republic of Crimea and Sevastopol, temporarily occupied by Russia, and urged residents of Crimea not to participate in the illegal election of the Russian president on the territory of the peninsula.
A number of European states declared that they would not recognize the holding of Russian elections in Crimea.
op