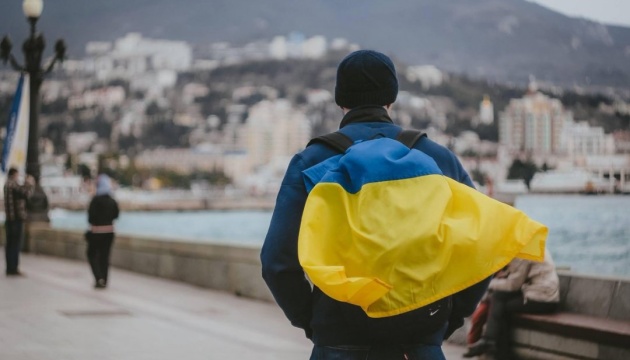 Ukraine marks Day of Resistance to Occupation of Crimea
Four years ago, on 26 February 2014, the several thousand strong rally of pro-Ukrainian activists and Crimean Tatars in support of the territorial integrity of Ukraine took place in Simferopol.
To oppose them, the rally of the Russian Union party, led by henchman of Russian occupants, Sergei Aksyonov, was organized.
On that day, two people were killed and several dozen people were injured in clashes. Subsequently, after the Crimea had been illegally annexed, the Russian investigation committee instituted a criminal case over the clashes (the so-called "case of February 26") and arranged a political trial of Akhtem Chiygoz, Mustafa Degermendzhi, Ali Asanov and other Crimean Tatar activists.
Already the next day, February 27, the special forces of the Main Intelligence Directorate of the Russian Federation occupied the premises of the Verkhovna Rada and the Council of Ministers of Crimea. At the same time, the Verkhovna Rada of Crimea, upon the demand of the invaders, announced holding a referendum on Crimea's joining Russia. It was planned to be held on May 25, but then it was decided to hold a referendum on March 16.
Over the next few days, the streets of the towns and main roads of the peninsula were filled with Russian troops. The so-called "green men" (professional soldiers in Russia-style combat uniforms with Russian weapons but without identifying insignia) seized the administrative buildings, besieged the garrisons of the Armed Forces of Ukraine, seaports and airports. The leadership of Russia repeatedly argued that those armed people were not Russian servicemen. However, having occupied the peninsula and held a fake "referendum on the status of Crimea", Russians admitted that the "green men" were soldiers of the Armed Forces of the Russian Federation.
March 1, 2014, the Federation Council of Russia supported President Putin's request to allow using Russian Armed Forces on the territory of Ukraine. In turn, the National Security and Defense Council of Ukraine ordered to get the Armed Forces of Ukraine fully operational in response to the Russian aggression.
The international organizations recognized the occupation and annexation of the Crimean peninsula illegal and condemned Russia's actions. In particular, during this period, three UN resolutions on Crimea have been adopted. At the same time, a number of Western countries have introduced economic sanctions against Russia.
Four years have passed, and the situation on the annexed Ukrainian peninsula remains tense. The occupying power has chosen the tactics of intimidation and terror of the local population. Currently, the activities of the Mejlis of the Crimean Tatar People are banned in Crimea. The repressions, raids of homes and illegal detentions take place on a regular basis. The aggressor country cynically disregards the fundamental human rights and freedoms and the international law.
ol