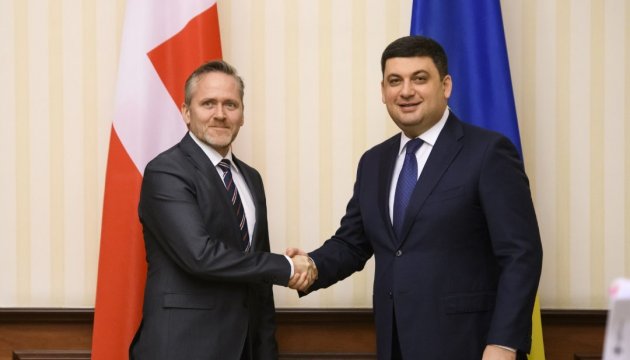 Ukrainian prime minister thanks Danish foreign minister for support in implementing reforms
Ukrainian Prime Minister Volodymyr Groysman states that Ukraine has made significant progress in carrying out reforms over the past six months.
He said this during a meeting with Danish Foreign Minister Anders Samuelsen, the Governmental portal informs.
The head of the government, in particular, notes Denmark's support for the sanctions policy against the aggressor state and thanks for the full support of reforms in Ukraine.
He adds that over the past six months the state has achieved impressive results in implemantation of reforms, primarily in education,judiciary, pension, health care, and public administration systems.
"Today, we have to create an anti-corruption court and to continue reforms in health, energy, civil service sectors and decentralization. We see what areas should be strengthened and we are open to constructive discussions about future plans," the prime minister said.
"We also welcome the initiative of Denmark to hold an international conference on Ukrainian reforms (in Copenhagen in the summer)," Groysman emphasized, recalling a similar conference that was held in London last summer and became an efficient platform for the exchange of ideas and the search for far-reaching solutions that are being implemented today.
In turn, Anders Samuelsen stresses that Denmark will continue to support Ukraine.
"We know that reforms are usually unpopular in any country. But we want to emphasize that we will support your state and government in this complicated work," the diplomat said.
As known, Denmark is among the leading trade partners of Ukraine among the EU member states. According to the results of 2017, the volume of bilateral trade increased by 15% - to 540.8 million dollars. The development of relations is facilitated by the FTA between Ukraine and the European Union. The promising areas of cooperation are mechanical engineering, production of automotive components, food industry and light industry.
ish