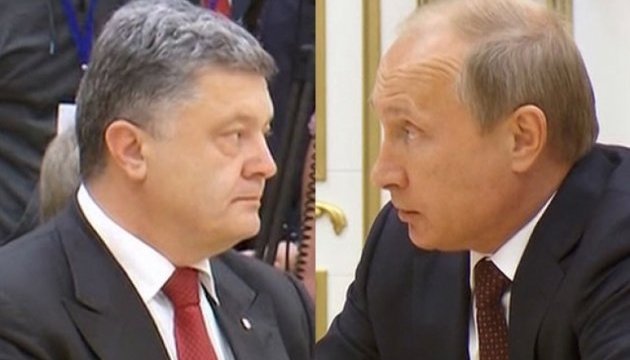 Poroshenko confirms he spoke with Putin
Ukrainian President Petro Poroshenko has confirmed that he has recently had a telephone conversation with Russian President Vladimir Putin, during which they talked about the exchange of hostages and the deployment of a UN peacekeeping force to Donbas.
The head of the Ukrainian state said this in comments to reporters on Thursday, an Ukrinform correspondent reports.
"The purpose [of the conversation] consisted mainly of two parts. The first part concerned what was expressed exactly three years ago, during the signing of the Minsk-2 [agreements] at the beginning of 2015. We need peacekeepers like air," Poroshenko said.
In addition, he noted that he had discussed with Putin the return of hostages.
"The second position is that we cannot, in any case, stop in the way of the release of our hostages. I have discussed specific details - lists, specific surnames of those whom we must return from occupied territories and those whom we must return from Russia," Poroshenko said.
At the same time, he assured that at the moment everything was being done to return Ukrainian soldiers illegally imprisoned in occupied territories, as well as journalist Roman Sushchenko, film director Oleh Sentsov, activist Oleksandr Kolchenko and Crimean Tatars - all who now stay in Russia.
Poroshenko declined to name Ukrainians who could be returned home, but assured that efforts were being made to "take steps this month that will allow us to call surnames and call a date."
Earlier reports in the media said that Poroshenko had a telephone conversation with Putin on February 12.
op