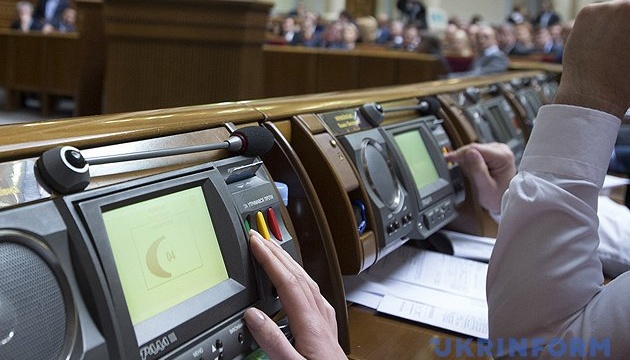 Parliament approves law on Donbas reintegration
The Verkhovna Rada, Ukraine's parliament, has adopted the law on the peculiarities of the state policy on ensuring Ukraine's state sovereignty over temporarily occupied territories in Donetsk and Luhansk regions.
A total of 280 MPs voted for the respective bill (No. 7163) as a whole at a session on Thursday, an Ukrinform correspondent reports.
Before the decision was passed, the secretary of the parliamentary committee on national security and defense, Ivan Vinnyk, read out a number of amendments to the text of the bill. In addition, according to him, the committee proposed returning to a number of amendments that had not previously been supported by lawmakers.
Verkhovna Rada Chairman Andriy Parubiy put the bill to the vote, taking into account the announced proposals, and the deputies supported the document.
The preamble to the law states that "the Russian Federation commits a crime of aggression against Ukraine and carries out temporary occupation of part of its territory with the help of armed units of the Russian Federation."
At the same time, the preamble notes that the date of the beginning of occupation of part of Ukraine, in particular, Crimea and Sevastopol, is determined by the law on ensuring the rights and freedoms of citizens and the legal regime in the temporarily occupied territory of Ukraine. According to this law, the date of the beginning of temporary occupation is February 20, 2014.
The law on Donbas reintegration outlines the peculiarities of the state policy on securing Ukraine's state sovereignty in temporarily occupied territories in Donbas.
It is envisaged that the boundaries and the list of districts, towns, villages and settlements, parts of their territories temporarily occupied in Donetsk and Luhansk regions are determined by the president under a motion from the Ukrainian Defense Ministry, prepared on the basis of proposals from the General Staff of the Ukrainian Armed Forces.
According to the law, responsibility for financial or moral damage done to Ukraine as a result of Russian aggression is placed on Russia in accordance with generally accepted principles and norms of international law.
In addition, MPs established that persons involved in Russia's armed aggression or involved in the Russian occupation administration are held criminally liable for violating Ukrainian legislation and norms of international humanitarian law.
The parliament also defined a system of distribution of powers for national security measures.
As reported, on October 4, 2017, President Petro Poroshenko submitted to the Verkhovna Rada bill No. 7163 on the peculiarities of state policy on ensuring Ukraine's state sovereignty over temporarily occupied territories in Donetsk and Luhansk regions.
On October 6, 2017, the parliament voted for the document at first reading.
op