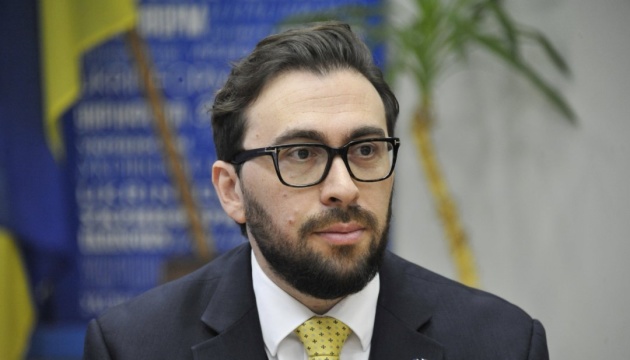 NATO cannot ignore Russian aggression in Ukraine - Vinnikov
Russian aggression against Ukraine has challenged the entire security order in Europe. For the first time since the Second World War, one country has taken territory of another country by force and NATO cannot ignore it.
Head of the NATO Representation and Director of the NATO Liaison Office in Ukraine Alexander Vinnikov said this during a round table discussion at Ukrinform entitled "Threats to Security of Ukraine and Other Countries of the Eastern Partnership Region and Possible Responses."
"Ukraine faces vital challenges to its security and prosperity, both external and internal challenges. Russian aggression has challenged the entire European security order that has been established since the end of the Cold War. This is, of course, the first time since the Second World War that a country has taken the territory of another country by force. This is clearly something that NATO cannot and does not ignore," he said.
Vinnikov said that in response to Russia's aggression against Ukraine, NATO had taken steps to strengthen its defense and deterrence capabilities, first of all, on its eastern and south-eastern flanks.
"When it comes to Ukraine, NATO has been steadfast in its support for Ukraine's sovereignty and territorial integrity. Since the beginning of Russian aggression, the practical and political support that NATO has provided to Ukraine has truly been unprecedented. We have done so, because we are solidary with Ukraine, and we believe that assisting with the reform of Ukraine's security and defense sector is the best way to help Ukraine ensure its own security," he said.
Vinnikov also said that Ukraine had long been NATO's important partner, contributing to the alliance's missions and operations.
"Ukraine remains a priority partner for NATO and the success of Ukraine is of vital importance to the security and stability of the entire Euro-Atlantic area. That is why we will continue to provide strong political and practical support to Ukraine's sovereignty, independence and reform effort," he said.
op