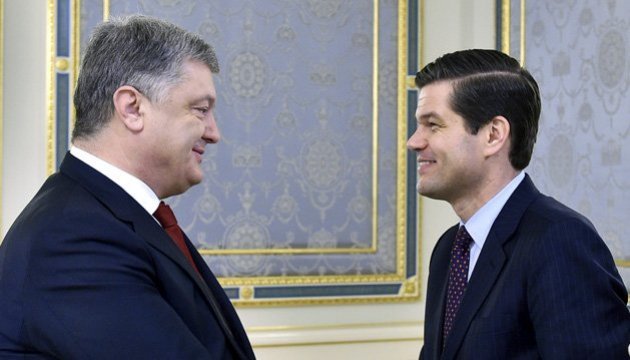 Poroshenko, Mitchell agree on priority steps in Ukraine-U.S. relations
Ukrainian President Petro Poroshenko and U.S. Assistant Secretary of State Wess Mitchell have agreed on priority steps in relations between the two countries, the presidential press service has reported.
"The interlocutors discussed in detail a number of issues of bilateral relations between Ukraine and the United States and coordinated priority steps as part of strengthening them, in the best interests of both sides and joint defense and promotion of freedom and democracy, the rule of law and human rights," the statement reads.
In addition, during the meeting, the sides noted the importance of "new approaches and bold initiatives" in the issue of strategic partnership between Ukraine and the United States - from enhanced political, trade, economic and energy cooperation to strengthening defense and security partnership between the countries.
The sides also discussed the reform process in Ukraine.
"I am absolutely convinced that there is no country in the world that would implement such a number of reforms in various spheres, during the war. And we have strong support for our reforms on the part of the United States," Poroshenko said.
He thanked the U.S. side for its significant contribution to the development of the new Ukrainian army in the face of Russian aggression.
Mitchell, in turn, said that the United States would continue to assist Ukraine in its efforts to develop and strengthen the country, as well as further coordinate efforts to ensure reliable and effective international support for the Ukrainian state.
He said that what the president and his team had achieved in a very short period of time was amazing. It's phenomenal that so much has been done over the past three years, Mitchell said.
At the same time, he confirmed his readiness to continue supporting Ukraine's efforts to restore the sovereignty and territorial integrity of the country and, if necessary, to increase the cost for Moscow for continuing aggression against the Ukrainian state.
op