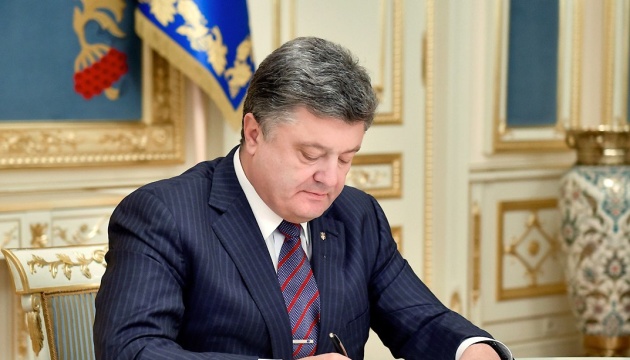 President approves composition of National Investment Council
Ukrainian President Petro Poroshenko has signed a decree approving the composition of the National Investment Council.
The decree, No. 317/2017, was published on the website of the head of state on Thursday, October 12.
The document amends the provision on the National Investment Council, according to which "representatives of the American Chamber of Commerce in Ukraine and the European Business Association take part in the work of the council with the right of an advisory vote."
President Petro Poroshenko is the chairman of the council. It also includes Prime Minister Volodymyr Groysman, First Deputy Prime Minister and Minister for Economic Development and Trade Stepan Kubiv, Finance Minister Oleksandr Danyliuk, Energy and Coal Industry Minister Ihor Nasalyk, Infrastructure Minister Volodymyr Omelyan, Justice Minister Pavlo Petrenko, Chairman of the Verkhovna Rada Andriy Parubiy, Head of the Presidential Administration Ihor Rainin, Deputy Head of the Presidential Administration Dmytro Shymkiv, Presidential Adviser and Secretary of the National Investment Council Borys Lozhkin.
The National Investment Council also includes the heads of international companies and international financial organizations that actively invest in Ukraine.
op