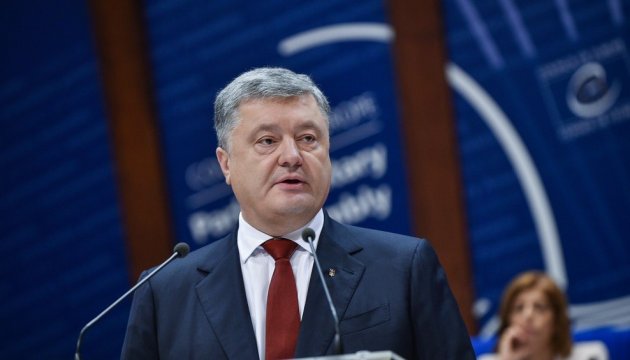 Poroshenko strongly rejects statements about Crimea as 'fait accompli'
President of Ukraine Petro Poroshenko strongly rejects statements of those saying about "fait accompli" as regards Crimea.
Poroshenko said this, speaking at the plenary session of the Parliamentary Assembly of the Council of Europe in Strasbourg, an Ukrinform correspondent reports.
"I strongly reject some saying about 'fait accompli' as regards Crimea. This tribune was not invented for calls for appeasement. Neither was it for appeals to trade in territory for money, oil or gas. It was invented to safeguard our fundamentals, our values and our principles, and, most importantly, to defend them in time of a need. The time has come," Poroshenko said.
He noted that Russia tried to use against the democratic community its own achievements.
"In 1950 Winston Churchill, an ideological father of the Council of Europe, appealed to this Assembly against the background of the challenge to the democratic Europe from the Soviet Union. He admitted that Moscow had 'a wealth of opportunities for creating trouble'. Given the circumstances, he said something very important about the prospect of this Assembly. I quote: 'Either we shall prove our worth and weight and value to Europe or we shall fail'," the President of Ukraine said.
He added that Moscow now pushed Europe back to the same reality that Sir Winston Churchill was so concerned by almost 70 years ago.
"The guarantee of our success resides in preserving and strengthening of our unity, solidarity and resilience. It is only upon the respect of the sovereignty and territorial integrity of Ukraine that we can achieve peace and stability in Europe. Ukraine strives for peace as, I believe, everyone does in this hall. I, as the Head of State, want peace for Ukraine and Europe," Poroshenko stressed.
ol