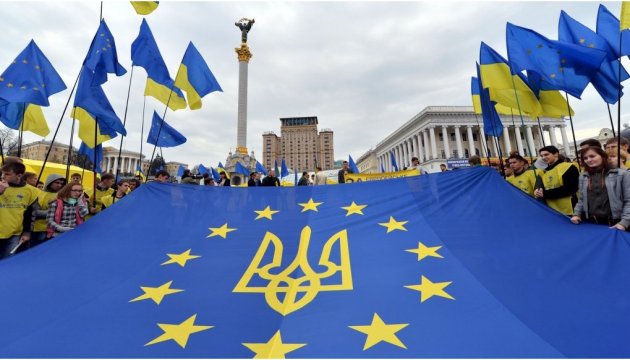 EU-Ukraine Association Agreement comes into force
The Association Agreement between the European Union and Ukraine, including the creation of a deep and comprehensive free trade area, came into force on September 1.
The agreement was signed in two stages in 2014, but the ratification process was completed only in June 2017, Ukrinform's correspondent in Brussels reports.
Negotiations on a new basic agreement between Ukraine and the EU, to replace the current Partnership and Cooperation Agreement, were launched in March 2007 (in 2008, the parties agreed on the name of the future agreement - the Association Agreement). On November 11, 2011, Brussels hosted the final, 21st round of negotiations on the Association Agreement, during which all provisions of the document were agreed upon.
The signing of the Association Agreement between Ukraine and the EU took place in two stages.
The political chapters of the document were signed at the EU-Ukraine summit on March 21, 2014.
In particular, the sides signed the Preamble, Article 1, Title I "General Principles," Title II "Political Dialogue and Reform, Political Association, Cooperation and Convergence in the Field of Foreign and Security Policy" and Title VII "Institutional, General and Final Provisions" of the Association Agreement. A statement was also made at the summit that Ukraine's obligations under Article 8 of the Association Agreement in relation to the ratification of the Rome Statute of the International Criminal Court of 1998 will be implemented after the relevant amendments to the Constitution of Ukraine have been made.
On June 27, 2014, at a meeting of the Council of the European Union, Ukrainian President Petro Poroshenko and the leadership of the European Union and the heads of state and government of 28 EU member states signed the economic part of the Association Agreement - Title III "Justice, Freedom and Security," Title IV "Trade and Trade-Related Matters," Title V "Economic and Sector Cooperation" and Title VI "Financial Cooperation, With Anti-Fraud Provisions."
On September 16, 2014, the Verkhovna Rada and the European Parliament simultaneously ratified the Association Agreement between Ukraine and the EU.
The Ukrainian side deposited its instruments of ratification and thus completed all internal procedures.
The Association Agreement includes more than a thousand pages and consists of the preamble, seven titles, 43 annexes, and three protocols.
op