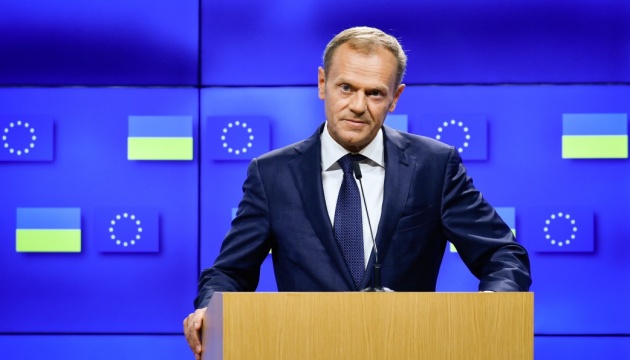 Tusk sees internal conflicts as biggest threat to Ukraine
External enemies cannot overcome Ukrainians, but internal contradictions pose the biggest threat to the unity of the state.
European Council President Donald Tusk said this in Ukrainian in his introductory speech at the Ukraine-UE summit in Kyiv on Thursday, an Ukrinform correspondent reported.
"Let me, as your friend, express one opinion. Today we see clearly that an external enemy cannot overcome you. You are too strong, but you can defeat yourself. That is why you should keep your unity at any cost and avoid internal conflicts like a plague," he said.
Tusk also noted that despite many achievements, Ukraine had walked only half the way.
"I am convinced that if you continue to be so determined, brave and consistent, as you were then on Independence Square, as you are in a battle for the integrity and dignity of Ukraine, if you can withstand the complexity of reforms and not surrender, then you will realize your dreams and achieve your goals," he said, addressing the Ukrainian people.
Tusk expressed confidence that the most important task for Ukrainians now was to build a modern state that cares about its citizens, fights corruption and establishes the highest standards of public life.
"If you can pass this exam, nobody and nothing will win you," Tusk said.
op