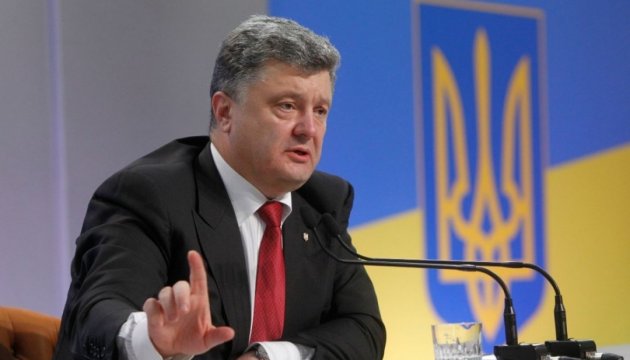 President Poroshenko: Yanukovych's money to be spent on Ukrainian army and social protection
Ukrainian President Petro Poroshenko says that the money received from the special confiscation of assets of ousted former Ukrainian president Viktor Yanukovych and his team will be spent on the Ukrainian army and social protection of population.
President Poroshenko said this during his visit to the main center of communication, automatization and information protection center of Ukraine's State Border Guard Service, an Ukrinform correspondent reported.
"Today the court's ruling on [the confiscation of] $1.4 billion from the ex-president and his clique… These funds were stolen from the people of Ukraine, took out from the pocket of each Ukrainian. And today, through our joint efforts, due to the investigators of the Prosecutor General's Office, we have re-established this justice and returned the money to the national budget," he said.
President Poroshenko noted that in the first place, the funds will be used to resume the fighting capacity of the Ukrainian army, the Ukrainian Armed Forces, the National Guard, the Security Service, the State Border Guard Service and the National Police.
Also, according to President Poroshenko, a part of the confiscated money will be spent on the construction of a rehabilitation center for ATO soldiers.
"It will be a new approach to the protection of Ukrainian servicepersons," he stressed.
Iy