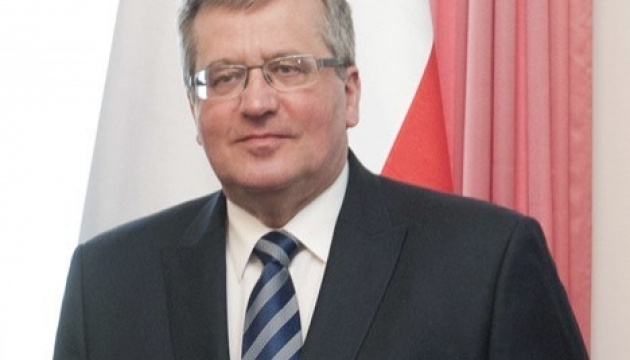 Komorowski: Poland should help Ukraine modernize itself, but not 'to extinguish fire'
Poland's task is to help Ukraine modernize the country during the crisis and not to extinguish in it political, economic and military conflagration, Bronislaw Komorowski told
KYIV, April 4 /Ukrinform/. Poland's task is to help Ukraine modernize the country during the crisis and not to extinguish in it political, economic and military conflagration, Polish President Bronislaw Komorowski told the TVP.INFO television channel in an interview.
"We need to think how not to respond only to the crisis in Ukraine, not to extinguish the political, economic and military fire, but to start systematically support the modernization of Ukraine, to help it and itself to realize national goals," Komorowski said.
He said that "fire" in Ukraine arose due to the failure of the previous Ukrainian government to sign the Association Agreement with the EU, a revolutionary situation in the Maidan, and later the Russian intervention in Crimea.
According to him, the mission of Poland is to help Ukraine avoid escalation.
Komorowski said that for several years he has offered Ukrainians to carry out a large reform in the system of local self-government as Poland did. "In Poland the effect was the decentralization of the country as the best formula for the use of public funds," the Polish leader said.
He added that soon a draft law in this area will be submitted to the Verkhovna Rada, co-prepared with Polish specialists.
A reminder that on April 8 Komorowski convenes a meeting of the cabinet Council on Ukraine. The Cabinet Council is a constitutional body of Poland, convened by the president to discuss the country's particularly important cases, and consists of members of the Council of Ministers. Until that time, Komorowski in four years three times convened the Cabinet Council: on countering the aftermath of floods in Poland (2010), the Polish presidency of the EU (2011), as well as a plan of action with respect to the country's accession to the euro area (2013).
АМ