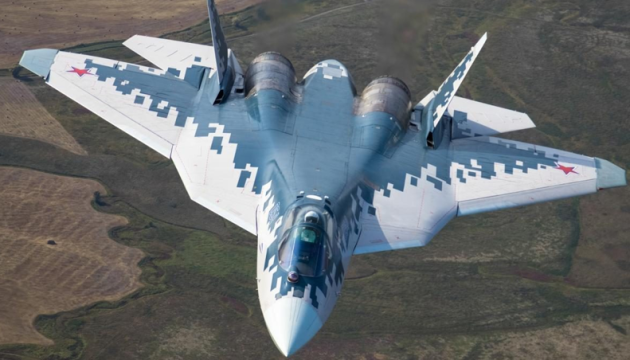 Russian fake: Newest Su-57 destroys Ukrainian aircraft at record distance
Propagandists resorted to several manipulations to create an advertising fake about their "state-of-the-art" fighter jet
The other day, a Russian Telegram channel shared a publication saying that Su-57 fighters of the Russian Air Force allegedly destroyed Ukrainian aircraft with R-37M long-range air-to-air missiles at a distance of more than 200 km from the Russia–Ukraine border. Propagandists reported this information, referring to the Military Watch American outlet.

This is fake. The Russians resorted to several manipulations to create it.
First, on October 15, 2022, the outlet reported that the Ukrainian Su-27 and Su-24MR aircraft were indeed shot down at a 217km range, but by the Russian S-400 air defense system. Hitting Su-27 by the air defense system is also mentioned in the official report by the Ministry of Defense of the Russian Federation dated October 13 [it contains no information about Su-24MR].
Later, a Russian media outlet published material claiming that Western bloggers and experts allegedly do not want to believe the information about the destruction of the Ukrainian aircraft by the air defense system because, as the propagandists write, the modern Russian air defense system can pose a danger to NATO aviation in a hypothetical conflict. According to the Russians, users of Western forums believe that Ukrainian Su-27 was hit by R-37M Russian long-range hypersonic air-to-air missile, which was allegedly fired from Su-57. They did not provide any confirmation that this topic was widely discussed and gave no references to sources.
Already on October 21, based on propaganda news, the Military Watch published material in which it was assumed that the Ukrainian Su-27 could be destroyed by the Russian Su-57. This was the basis for further fakes in Russian media.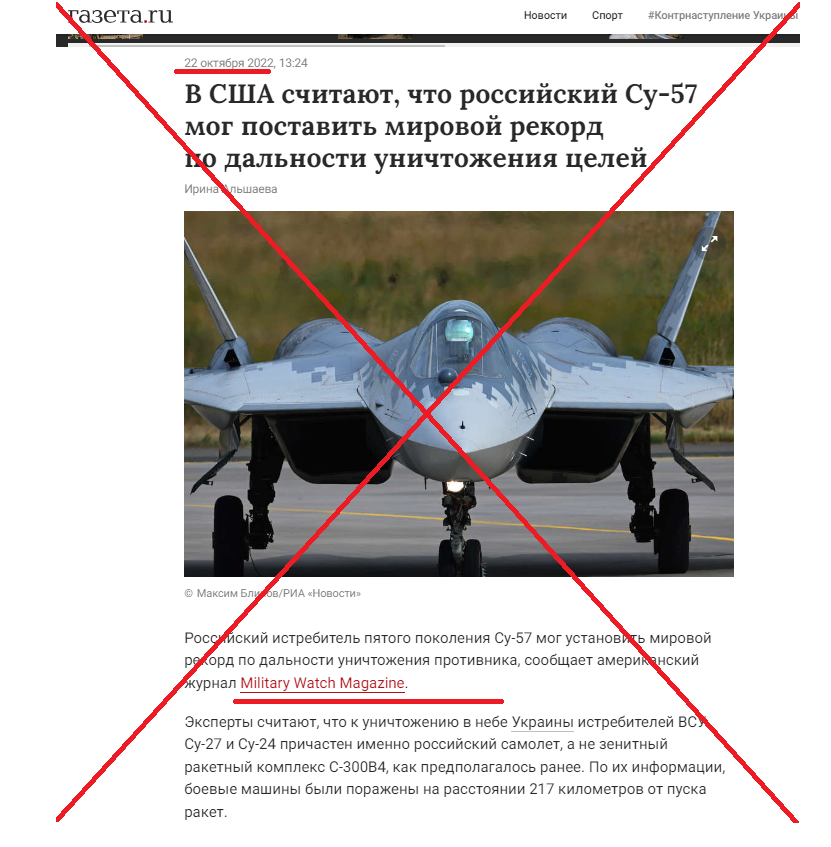 As Yuriy Ihnat, the spokesman for the Air Force of the Armed Forces of Ukraine told a briefing at the Media Center Ukraine–Ukrinform on May 2, 2023, the Air Force of Ukraine had not recorded the facts of the use of Su-57 and Su-75 aircraft against Ukraine.
According to a study by the Royal United Services Institute, the longest-range recorded kill by a Russian R-37 missile was at 177 km, not 217 km as was claimed by propagandists. In addition, the Russians used Su-35 aircraft, not Su-57, for that.
Recently, the Russians spread a fake that another batch of the newest tanks was sent to Ukraine, but as it turned out, the video was old and the tanks were not modernized.
Dmytro Badrak