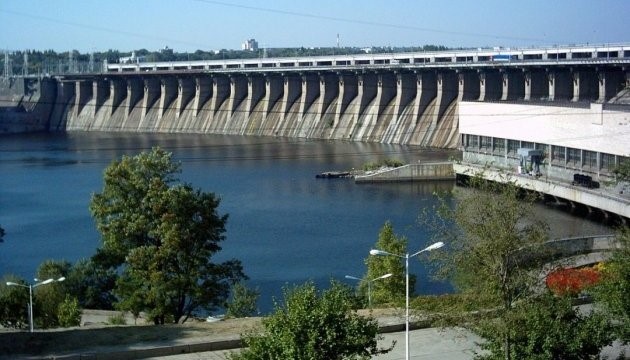 Russian fake about Kyiv HPP: 4-meter wave will cover Obolon
The Russians passed an apocalyptic forecast of a pseudo-expert off as the statement by local authorities
After the Kakhovka HPP was blown up by the Russian occupying forces on June 6, z-Telegram channels began to spread information that the Kyiv HPP dam is allegedly in a critical condition by 93% and the capital authorities allegedly announced this. The post says that 3 minutes after the accident, Kyiv's Obolon district will be covered by a 4-meter wave, in another two minutes - the water will reach Troieshchyna, in 10 minutes - it will be in the center of Kyiv, while overall, about 30 cities and hundreds of villages will be at risk of flooding. The post is accompanied by a picture of flooding.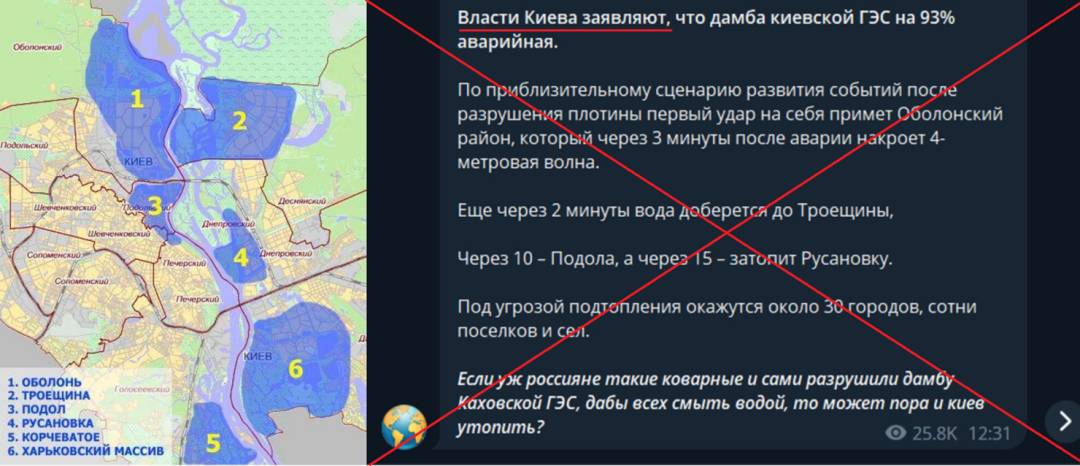 This is a fake. Firstly, such information is not available on the official website of the Kyiv City Council, as well as its social networks.
Secondly, the picture used by propagandists appeared on the Internet back in 2014, which is evidenced by the result of a search using the TinEye system.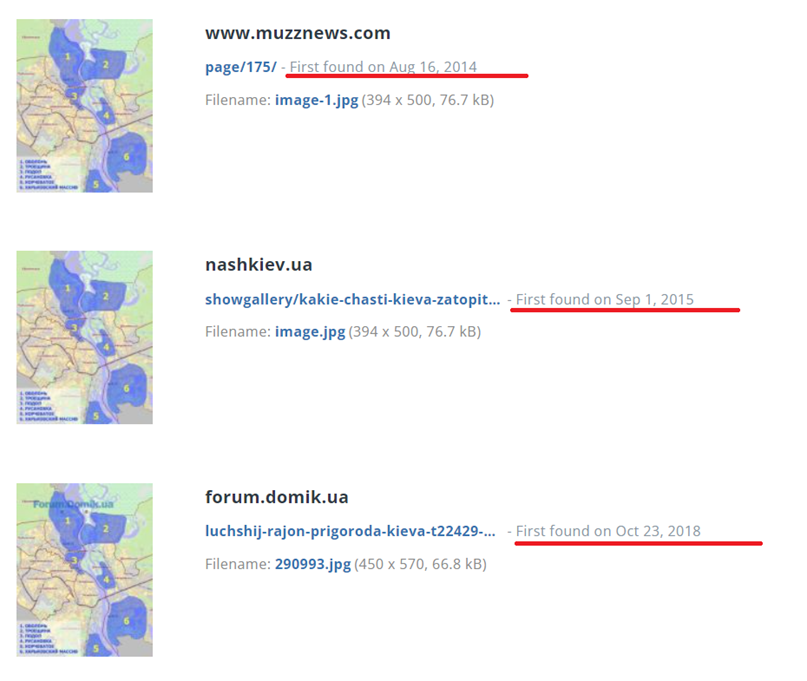 In fact, the propagandists claimed that the statement by the Kyiv authorities was based on the assessments made by pseudo "ecologist" Vasyl Kredo (on his almost empty Twitter and Facebook pages, he positions himself more globally - "writer-theologian, philosopher-prognosticator, ecologist-catastrophist, secular monk"), which were already refuted last year. In particular, Ukrhydroenergo called them pseudo-expert ones. In a comment to Ukrinform, Mark Zheleznyak, a professor at Fukushima University's Institute of Environmental Radioactivity and laureate of the State Prize of Ukraine in the field of science and technology, questioned Vasyl Kredo's professional qualifications.
"Yes, flooding is possible, but the apocalypse is canceled. There will be no 4-meter water wall in Obolon, which Mr. Kredo frightens. There will be only insignificant flooding of riverine areas. There is no mention of any flooding of Troieshchyna, Podil, Rusanivka at all. From the residential areas of Kyiv, Rusanivka Gardens will be the most affected, the height of the water rise here can reach 3 meters," Mark Zheleznyak commented on the forecast made by "ecologist".
As reported, it was Mark Zheleznyak and a team of other scientists from the Institute of Mathematical Machines and Systems Problems of the National Academy of Sciences of Ukraine who made detailed calculations last spring and predicted the nature of possible flooding of Kyiv region's territories in case of the destruction of the Kyiv Reservoir dam. From these calculations it follows that the depth of flooding should be much less than Kredo said in his apocalyptic "forecast," which is used by Russian propagandists.
Dmytro Badrak