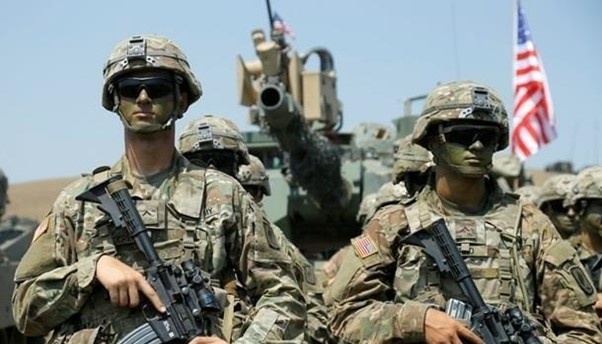 Russian propaganda's fake report claims U.S. troops stage flash mob against war with Russia
Every decision made by Ukraine's partners to provide weapons to the Ukrainian Armed Forces is followed by a barrage of Russian fake news.
Russian and Belarusian media, pro-war Telegram channels, as well as some Russian Twitter accounts shared a photo of a purported U.S. Army soldier who "launched a flash mob" against "war with Russia," and allegedly asked the government to "stay out of Ukraine."
The photo was also posted on the Chinese social network Weibo.
The info campaign was timed with Washington's decision to send Abrams tanks to Ukraine.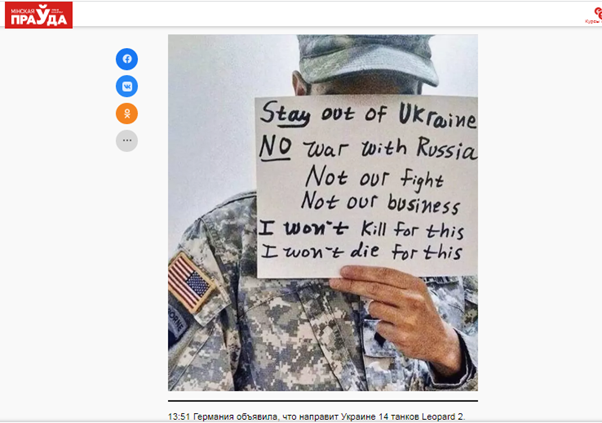 In the photo, a man sporting the U.S. Army uniform covers his face with a sheet of paper reading "Stay out of Ukraine," "No war with Russia," "Not our fight," "Not our business," "I won't kill for this," and "I won't die for this,"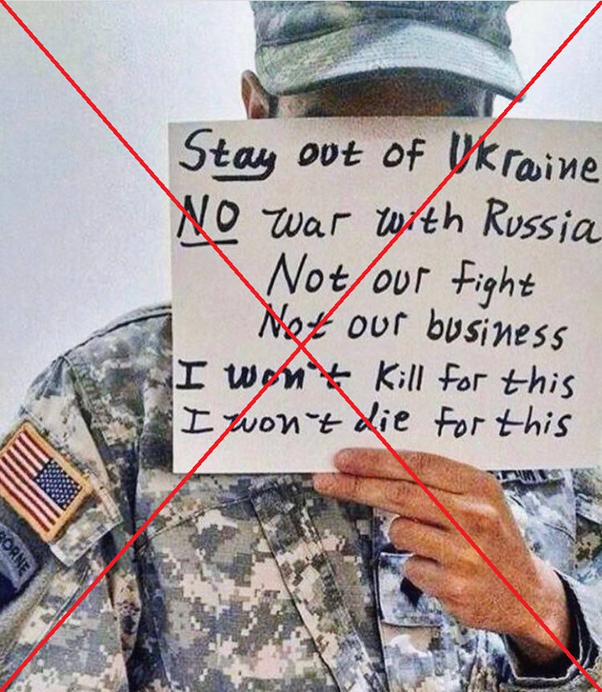 The texts accompanying the photo say that in this way the U.S. soldiers are "massively participating" in a flash mob against the war and arms supplies to Ukraine.

This is a fake report as such a flash mob never took place. Moreover, this picture is almost nine years old. It first appeared on the Internet on March 27, 2014, nine days into the Russian illegal Crimea grab and two weeks before the start of the Anti-Terrorist Operation in eastern Ukraine.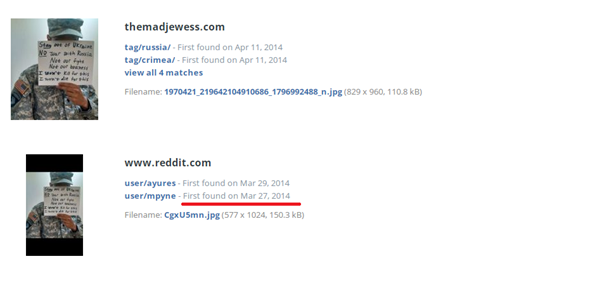 Later, this photo repeatedly resurfaced in various Russian information campaigns. In 2015, it even made it to the professional Internet forum of the American military, Rally Point, where real U.S. Army vetreans condemned the stunt in their comments - "political statements aren't to be made in uniform," adding that otherwise those making them would not hide their faces.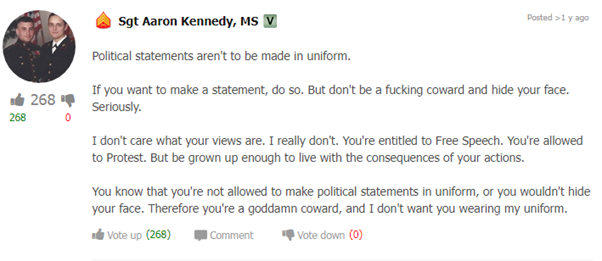 The previous reincarnation of this fake story occurred in October 2022. The photo was launched through accounts on Twitter and Gab.
At the same time, the photo itself has turned out to be fabricated. It was created with the help of an online graphic editing software. On the original, uncropped picture, imgflip is written in small font in the lower left corner. This is what is written on any pictures that have been edited or created in this application.
Previously, Russian propaganda launched a series of fakes on the occasion of the handover of German Leopard tanks to Ukraine, among which was the claim that Polish tankmen are being discharged for refusing to fight in Ukraine.
Andriy Olenin