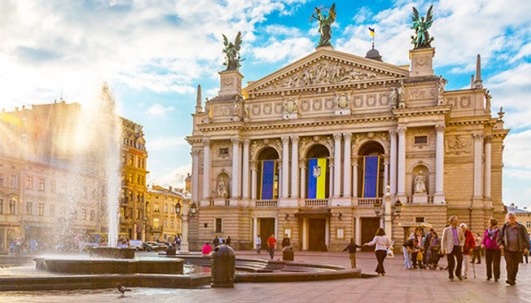 Leopard tanks from Poland bugging Russian propagandists
Old narratives about new tanks and fake map of Ukraine on Polish TV channel
Russian Telegram channels and online media outlets spread an anti-Ukrainian publication illustrated with an incorrect picture. The photo seems to be just a fragment of a weather forecast on TVP HD 1 Polish television channel, but the map shows the Ukrainian city of Lviv as part of Poland. Moreover, in photo description, the propagandists suggested that a part of the territory of Ukraine could be the payment for the transfer of Leopard 2 tanks.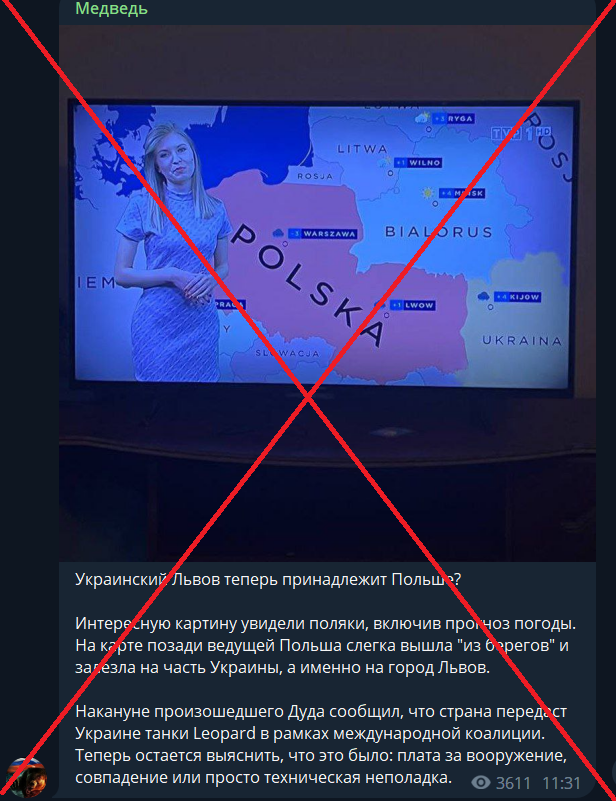 As TVP HD 1 channel's press service told Ukrinform, the map depicted in the propagandists' publication was not on the air at all.
"Although the news anchor is indeed a media personality who presents the weather forecast for the Polish TV Trwam channel, her silhouette was cut out of the TV Trwam weather forecast and pasted on a map similar to the one used by TVP HD 1," the press service of the Polish TV channel said.
The narrative about Poland's intention to seize western Ukraine has been systematically appearing in the Russian media lately. Recently, Ukrinform already refuted the information regarding the duplication of street names and signs in Polish.
Stanisław Żaryn, Government Plenipotentiary for the Security of Information Space of the Republic of Poland, also recently commented on the situation with Russian fakes. He drew attention to the fact that Russian propaganda is trying to create a negative image of Poland as an adventurous state waging a proxy war with Russia in the territory of Ukraine and planning to seize a part of Ukraine's territory.
Poland's intention to send Leopard 2 tanks to Ukraine is bugging Russian propagandists and making them fabricate new fakes.
Dmytro Badrak
ol