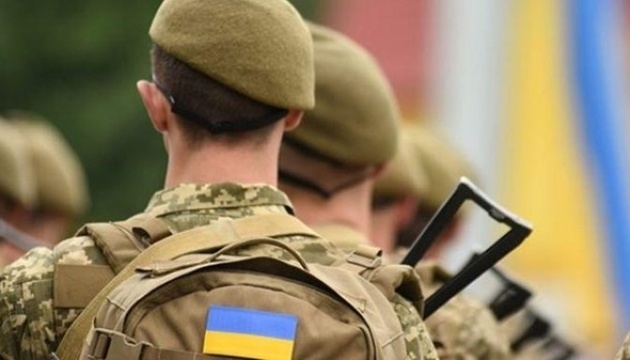 Russian propaganda ramping up fakes about mobilization in Ukraine
Claiming Ukrainian men are grabbed in the street, and lists of evaders are posted on poles
A video filmed in the town of Svitlovodsk, Kirovohrad region, is being shared on pro-Russian Telegram and YouTube channels. In the Ukrainian media landscape, it is spread by the Telegram channel of a pro-Russian media outlet, which is under the sanctions of the National Security and Defence Council of Ukraine. The video was also published on a local Telegram channel of Kirovohrad region.
It shows the military talking to a man and then the police officers arriving and taking the man away.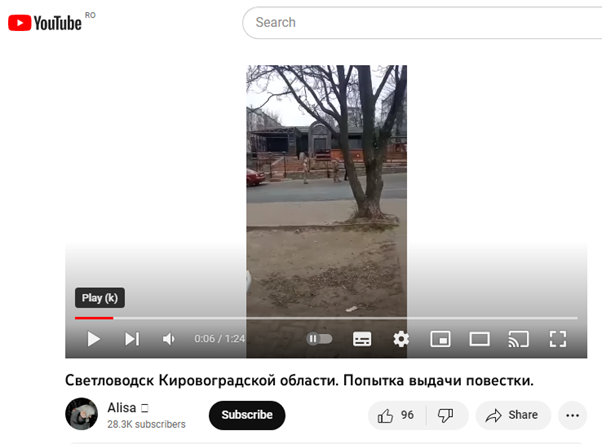 The description of the video and the Russian propaganda reports say this is how summonses are issued in the streets in Ukraine and men are made go to the front by force.
This is disinformation and manipulation, Spokesperson for the Kirovohrad territorial recruitment and social support center Ruslana Frantishkevych told Ukrinform in a comment. According to her, the military captured on the video are indeed the center representatives but they did not issue a summons.
"The servicemen were going to the recruitment center. On the way, they met a man who began to insult them. It looked like he was drunk. To calm him down, the military called the police. No one issued him a summons, the offender was detained by the police," she said.
Another fake news claiming that lists of mobilization evaders are posted throughout Dnipropetrovsk region is spread by the Russian mass media and Telegram channels. Russian propaganda uses a photo of fabricated leaflets allegedly containing the personal data of people who did not arrive at a military enlistment office after being served with summonses.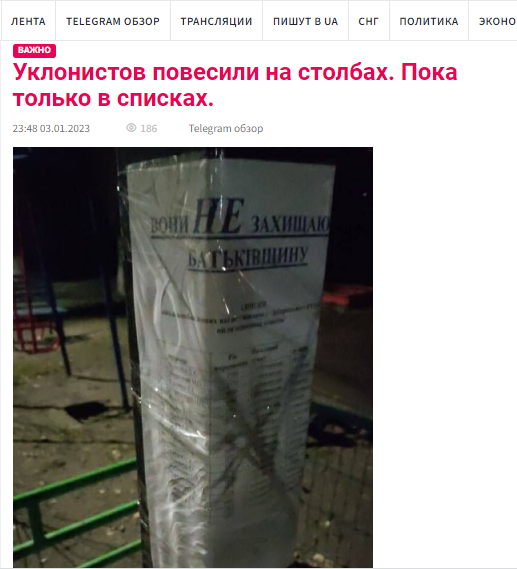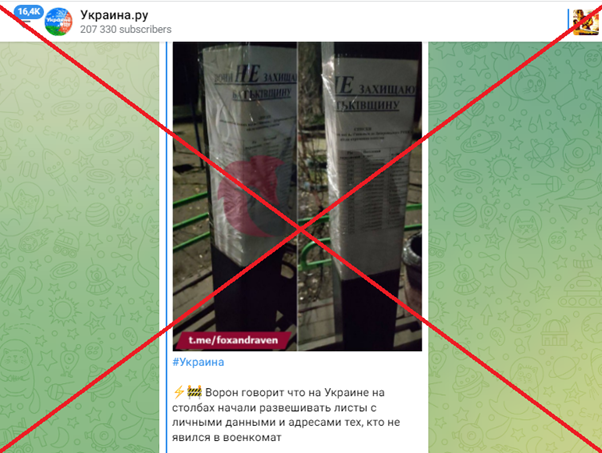 The photo was allegedly taken in Slobozhanske village territorial community, Dnipro district, Dnipropetrovsk region.
However, these leaflets are fake, Ivan Kaminskyi, the head of the village of Slobozhanske community, told Ukrinform.
"It is not true. I don't have such information," he said.
In addition, Soviet-related names of the streets were changed in the community. Forged leaflets contain the old names.
Andriy Olenin