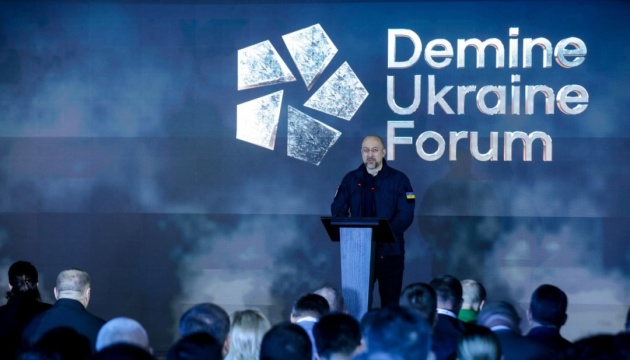 PM Shmyhal: More than $37B needed to clear mined areas
Currently, 174,000 sq km remain potentially mined in Ukraine, and more than $37 billion will be needed to clear mined areas.
"Russia leaves a deadly trace. Mines are a weapon of war that remains active long after the de-occupation, after the war, does not distinguish between a civilian, a military person, or a child. Unfortunately, the enemy deliberately mines our cities and villages, our territories, forests and fields to cause losses not only to the military but also to thousands of civilians. To date, 174,000 square kilometers remain potentially mined in Ukraine. This figure is already known to almost all of our partners. This is a huge area, the demining of which can take decades, and, according to some experts, even hundreds of years," Prime Minister Denys Shmyhal said at Demine Ukraine Forum, Ukrinform reports.
As noted, Ukraine is not going to spend so much time on demining and hopes to do it in the next few years. "According to the World Bank's estimate, it will be necessary to spend more than 37 billion dollars to clear mined areas," the Prime Minister said.
At the same time, he noted that these are all figures and data as of today and based on Ukraine-controlled territory.
In addition, he emphasized, the problem today is extremely difficult also because the enemy leaves behind a huge number of various dangerous objects that are not seen by metal detectors, or totally mines the places of residence of civilians.
"We have already seen after the de-occupation of Kyiv, Chernihiv, and Sumy regions how the enemy mines houses, playgrounds, children's toys, and furniture. They just mine everything to cause as much damage and harm to Ukrainians as possible," the Prime Minister said.
According to him, some mines cannot be removed and must be destroyed simply on the spot which complicates overall mine clearance.
Shmyhal emphasized that no country faced such a challenge after World War II and, therefore, Ukraine cannot do without the help of its partners. "The scale is huge. Of course, we need the help of our partners. We create appropriate institutions and infrastructure within our country," Shmyhal noted.
In particular, the Government has already created an interdepartmental working group on humanitarian demining to coordinate all ministries and agencies. This working group is headed by First Deputy Prime Minister – Minister of Economy Yulia Svyrydenko.
Now, according to the Prime Minister, the government is forming the Humanitarian Demining Center for information analysis, strategic planning and dialogue with our partners.
In this context, Shmyhal expressed his gratitude to all partners of Ukraine for their help in this matter. According to him, this help is really extremely powerful.
"An agricultural land demining plan is being implemented. More than 200,000 ha out of 470,000 ha identified as priority have already been inspected. About 120,000 ha have already been returned to cultivation. Not only the state works on this issue, but business also gets involved," the PM stressed.
In addition, he noted, 18,000 km of infrastructure have been cleared of mines, more than 12,000 homes of Ukrainian citizens have been checked for mine threats.
"A strategy and a national program for mine action have been developed, and its priorities are demining of infrastructure facilities, public safety, clearing of agricultural lands," the Head of Government said.
According to him, humanitarian demining is part of the second stage of the fast recovery of the state. He noted that it is simply impossible to move forward without it. "It is impossible to restore Ukraine until the infrastructure is demined. Unfortunately, our energy workers and utility workers who come... to the de-occupied territories to restore and repair the infrastructure are paying for it with their lives," Shmyhal added.
As reported, Ukraine plans to launch a market for humanitarian demining services through Prozorro system. In particular, a mechanism to compensate farmers and strategic enterprises for demining is being developed.
The draft budget for next year includes funds for the humanitarian demining program in the amount of UAH 2 billion.
Photo: Facebook / Denys Shmyhal