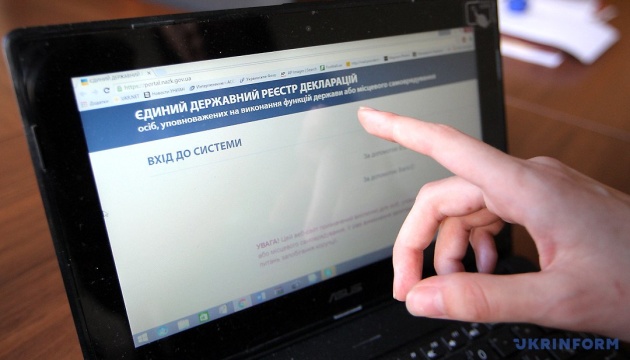 Rada Chairman signs law on restoring e-declaration, re-adopted with President's proposals
Chairman of the Verkhovna Rada Ruslan Stefanchuk has signed a law restoring e-declaration during martial law, re-adopted with proposals from President Volodymyr Zelensky.
Ukrinform reports this with reference to the parliament's website.
Thus, the section "Dates and status of passage" states that the Chairman of the Verkhovna Rada signed the document on September 26. The legislative act has been sent for signature to the head of the Ukrainian state.
As Ukrinform reported, the Verkhovna Rada passed the law on the restoration of electronic declaration during martial law No. 9534 on September 5. The adopted version of the document contained a provision that provided for leaving the register of declarations closed for another year with the possibility for declarants to voluntarily apply to the National Agency for Corruption Prevention (NACP) for personal opening of the declaration within a year.
This provision caused public discontent. A petition to President Volodymyr Zelensky calling for a veto of the law on the restoration of e-declarations and its return to parliament with a demand to open the register of officials' property declarations received the number of signatures required for consideration in record time.
On September 12, President Volodymyr Zelensky vetoed the law and submitted proposals to the Verkhovna Rada to amend the adopted document.
On September 20, the Verkhovna Rada supported President Zelensky's proposals to the law on the restoration of e-declaration.
Therefore, during martial law until it is terminated or lifted, the NACP must provide open round-the-clock access to the Unified State Register of Declarations of Persons Authorized to Perform State or Local Government Functions no later than 60 days after the date of entry into force of this document.
Declarations filed by members of the Armed Forces of Ukraine, border guards, employees of the State Service for Special Communications and Information Protection, representatives of the State Protection Department, police officers involved in combat operations, participants in peacekeeping missions, wounded, captured, citizens in the temporarily occupied territories, including if the relevant declarations were filed before the start of military service or appointment, are excluded from public access.
The NACP should withdraw declarations of the above categories of citizens from public access based on a written submission from the head or deputy head of the state body where the declarant serves.
This does not apply to representatives of the leadership of the Ministry of Defense of Ukraine, employees of territorial recruitment and social support centers, and military medical commissions.