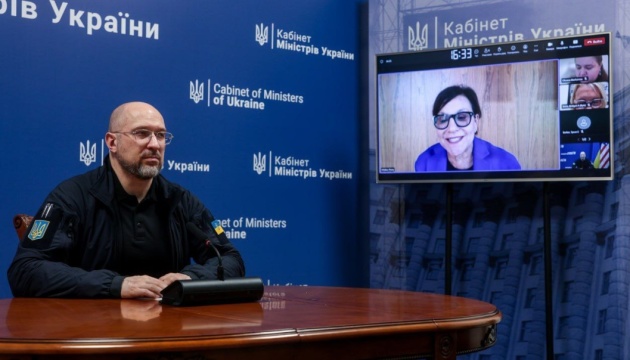 Shmyhal, Pritzker discuss involvement of U.S. business in Ukraine's restoration
Prime Minister Denys Shmyhal held the first online conversation with U.S. Special Representative for Ukraine's Economic Recovery Penny Pritzker.
The Prime Minister noted that Ukraine was interested in involving U.S. business in the country's restoration.
Shmyhal also informed Pritzker about the vision for Ukraine's recovery and outlined the needs for each of the priorities of fast recovery: energy, demining, restoration of housing, critical infrastructure and economy.
"I thanked USAID for joint business support programs that contribute to the creation of new jobs. We are working with the World Bank to address the needs for post-war reconstruction. I emphasized that the aggressor has to pay for the damage caused. The key tool for this is the confiscation of frozen Russian assets for the recovery of Ukraine," the Head of Government posted on Telegram.
According to him, the development of logistics is among the important elements of economic growth. Shmyhal and Pritzker discussed the expansion of solidarity lanes and war risk insurance.
"We are making progress in reforms on the path towards the EU and NATO and in digitalization. Separately, I focused on the veteran policy and the integration of the military into the socio-economic life of the country," Shmyhal noted.
The Prime Minister also thanked the United States for supporting Ukraine's restoration.