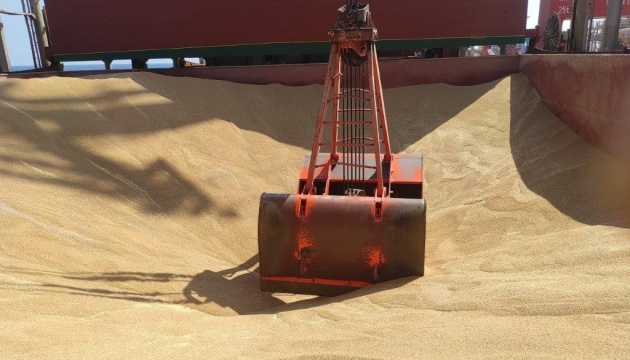 EU countries ready to consider changes in grain export rules proposed by Ukraine - Kachka
The three EU countries that have imposed national bans on the export of Ukrainian agricultural products - Poland, Romania, and Bulgaria - are ready to consider the mechanism of joint verification and approval of supplies proposed by Ukraine.
The Ministry of Economy reported this, citing a comment made by Taras Kachka, deputy minister of economy - trade representative of Ukraine, on the air of the National Telethon, according to Ukrinform.
"On Monday, we presented our plan to control agri-exports to all neighboring countries. We had a very good response from Romania and Bulgaria, which reacted quite positively and did not introduce national bans. The other three countries, including Poland, are also giving positive signals of their readiness to consider the mechanism proposed by Ukraine," Taras Kachka explained.
In his words, Ukraine has proposed to introduce a mechanism for joint verification and approval of supplies of four types of agricultural goods (wheat, corn, rapeseed, and sunflower seeds) to five EU countries.
"This will not solve the problem completely. It will actually indicate that trade between Ukraine and these five EU countries will be in a manual mode. But it will be a step forward and a rejection of bans that are unacceptable to us. The Ukrainian proposal can become the basis for resolving the issue of agri-exports to the five EU countries," Kachka said.
According to him, the Polish side has already stated that it is ready to work on solving this problem.
"I believe that by the end of the week we will be able to reach a compromise. After all, it is important for both Poland and Ukraine to develop cooperation, trade, agriculture and take care of the interests of each other's farmers, not just respond to public criticism," Taras Kachka assured.
Earlier, Polish Minister of Agriculture Robert Telus announced the readiness of the Polish side to find a solution to the problem of Ukrainian grain.
To recap: On September 15, 2023, the European Commission (EC) announced that due to the work of the Coordination Platform and temporary measures, market distortions in the five member states bordering Ukraine had been eliminated. In this regard, the EC decided not to extend its decision to ban the import of goods from Ukraine. The EC noted that Ukraine should take measures to prevent any market distortions in neighboring member states.
On the same day, Slovakia, Poland, and Hungary unilaterally imposed a national ban on imports of agricultural goods from Ukraine. After that, Ukraine filed a WTO case against these countries.