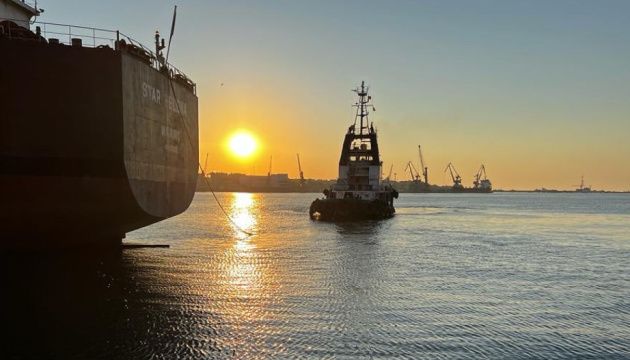 First ship leaves Odesa port along temporary corridor
The first ship left the Odesa seaport along the temporary corridor for civilian vessels.
"The JOSEPH SCHULTE container ship (Hong Kong flag) has left the port of Odesa and is moving along the temporary corridor established for civilian vessels to/from the Black Sea seaports of Ukraine," the Ministry for Communities, Territories and Infrastructure Development of Ukraine (Ministry for Restoration) posted on Telegram.
It is noted that the corridor will primarily be used for the evacuation of ships that were in the Ukrainian ports of Chornomorsk, Odesa, and Pivdennyi at the time of the Russian full-scale invasion.
The Ministry of Restoration added that according to the navigation order of the Navy of the Armed Forces of Ukraine No. 6, temporary routes for the movement of civilian vessels to/from the Black Sea seaports of Ukraine began to operate on August 8, 2023. Ukraine proposed this route in its appeal to the International Maritime Organization (IMO). The IMO Council recognizes Ukraine's international right to free trade navigation and calls on Russia to stop any threats and adhere to international conventions.
The last time the ship left the Odesa port was on July 16 as part of the grain deal. After the disruption of the grain deal, the Russian Federation resorted to systematic air attacks on port infrastructure to stop Ukrainian agricultural exports.
As reported, the Black Sea Grain Initiative was concluded in July 2022. For this purpose, two documents were signed: with the participation of the UN, Türkiye, and Ukraine, and separately – the UN, Türkiye, and the Russian Federation. The agreement was extended several times. On July 17, Moscow announced its withdrawal from the grain deal.
In general, Ukraine exported almost 49 million tonnes of grain and leguminous crops in the 2022/2023 marketing year (from July 1, 2022 to June 30, 2023).
Illustrative photo