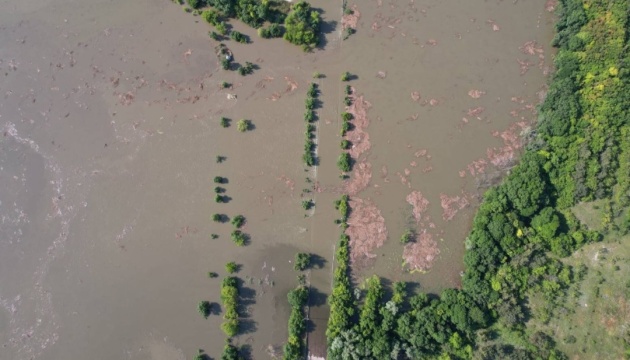 Flooded lands due to Kakhovka HPP's destruction require full agro-ecological assessment - Agrarian Ministry
Ukraine may lose millions of tonnes of crops due to the destruction of the Kakhovka hydroelectric power plant (HPP). Special methods will have to be used to restore the soil.
According to Ukrinform, First Deputy Minister of Agrarian Policy and Food of Ukraine Taras Vysotsky stated this on the air of the United News telethon, the Ministry of Agrarian Policy reports.
"Several million tonnes of Ukrainian crops may be lost due to flooding as a result of the Kakhovka HPP's destruction. The flooded lands require a full agro-ecological assessment of the soil condition, but after the water has receded. In most cases, special soil restoration methods will need to be applied," Vysotsky said.
Two main blocks of products were grown on the land affected by the Kakhovka HPP's destruction: 1. vegetables and gourds; and 2. grains and oilseeds (soybeans, corn, sunflowers, and wheat).
"Without a water supply source, it is impossible to talk about growing vegetables. Grains and oilseeds might be grown with low yields," the official noted.
Vysotsky emphasized that it is difficult to estimate the damage to the left bank of Kherson region. But it is known that several hundred thousand tonnes of grain were stored there. On the right bank, more than 100,000 tonnes of crops were lost.
The first deputy minister claims that the biggest threat to international food security is the inability to grow several million tonnes of grains and oilseeds without irrigation.
As Ukrinform reported, Ukraine may lose 14% of its agricultural production, or more than 3 million tonnes of grain, as a result of the Kakhovka HPP's explosion.