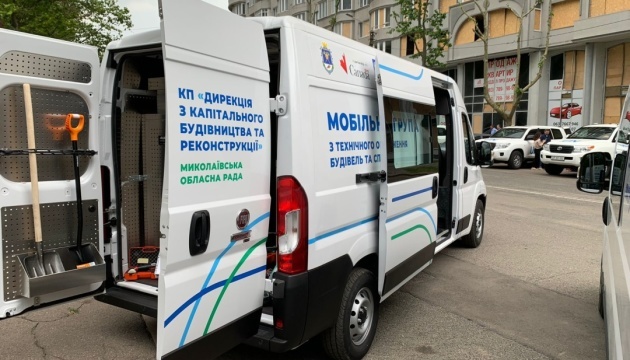 Mykolaiv receives special vehicles to inspect damaged buildings
United Nations Development Programme has provided Mykolaiv with specialised vehicles to inspect damaged facilities as a result of hostilities or terrorist attacks.
This was reported by the Mykolaiv Regional Council on Facebook, Ukrinform reports.
"The head of the United Nations Recovery and Peacebuilding Programme, Niels Christensen, and representatives of the Government of Canada handed over three specialised vehicles to the Mykolaiv region. One of them was transferred to the balance sheet of the Mykolaivbudreconstruction utility company for mobile teams to inspect buildings and structures. The vehicle is equipped with special equipment," the statement said.
It is noted that the mobile group is inspecting damaged facilities as a result of emergencies, hostilities or terrorist acts.
"The enemy continues to shell the Mykolaiv region. Today, we have thousands of destroyed facilities in various areas, and the enemy's shelling, unfortunately, does not end. Such transport is needed to quickly analyse the damage, so that it can be entered into the registers and restored as soon as possible," said Anton Tabunschyk, acting head of the regional council.
As reported earlier, Mykolaiv received two passenger buses from the capital of the Czech Republic, Prague.