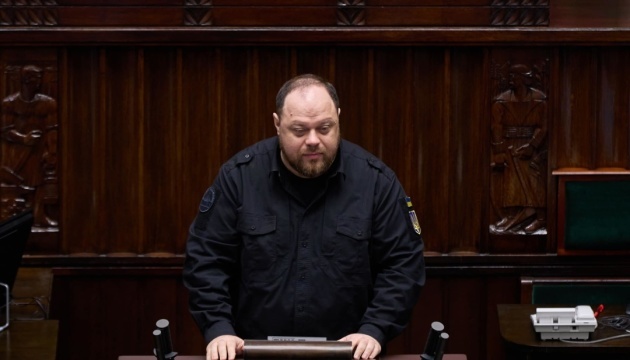 Parl't Speaker hopes restrictions on Ukraine's agri-exports to neighboring EU states to be lifted June 5
The Chairman of the Verkhovna Rada of Ukraine, Ruslan Stefanchuk, expressed hope that the EU would not extend the restrictions on the import of wheat, corn, rapeseed, and sunflower seeds to the five EU member states neighboring Ukraine, which will last until June 5.
Stefanchuk spoke of this during a blitz interview for Ukrainian mass media in Warsaw, summing up his foreign tour across several European countries, Ukrinform's own correspondent reports.
"I expressed (to the Polish authorities - ed.) Ukraine's clear position: we really hope that after June 5 there will be no restrictions for Ukraine. Because this is the wrong approach and we must solve these issues together," head of the Verkhovna Rada emphasized.
He noted that it is the profits from Ukrainian grain and from Ukrainian exports that the Ukrainian budget is filled, which "helps the Armed Forces and contributes to Ukraine's victory."
"It seems to me that I've been heard, and that we will find mutual understanding in the near future," Stefanchuk summed up.
As Ukrinform reported, on May 2, 2023, the European Commission introduced exceptional and provisional precautionary measures against imports from Ukraine, limiting the flows of agricultural goods produced in Ukraine to Bulgaria, Hungary, Poland, Romania, and Slovakia.
The restrictions apply to four agricultural products: wheat, corn, rapeseed, and sunflower seeds originating in Ukraine. They shall remain in effect until June 5, 2023.
Poland, Hungary, Slovakia, and Bulgaria introduced a temporary ban on the import of grain and other types of agricultural products from Ukraine. Poland also suspended the transit of Ukrainian agricultural products through its territory before resuming it on April 21.
After the European Commission introduced restrictions on the import of certain types of agricultural products into the territory of five EU nations, Warsaw canceled the national ban on Ukrainian agricultural products. At the same time, Warsaw proposed that the European Commission introduce a ban on the import of other types of agricultural products from Ukraine, including soft fruit, honey, eggs, poultry meat, and others.