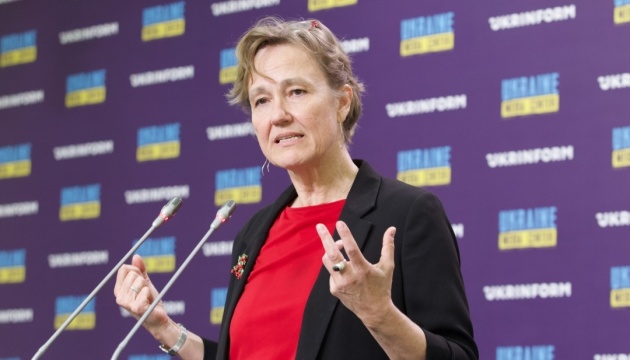 Ambassador: Germany seeks joint energy projects with Ukraine
Germany sees Ukraine as a promising partner in the energy sector.
German Ambassador to Ukraine Anka Feldhusen said this at Ukraine Media Center – Ukrinform.
According to the ambassador, Germany will continue to discuss ways of cooperation with Ukraine. This was an important issue before the war. Now it is even more relevant. Germany wants to find projects to start cooperating right away, Feldhusen added.
She was referring to green energy. The diplomat expressed confidence that Ukraine could become a major exporter of such energy. The emphasis is on renewables, such as wind, solar, and hydrogen. This is important for Germany, which continues to move toward achieving its climate goals (climate neutrality by 2045), the ambassador said.
Germany, Feldhusen reminded, has always aimed to switch to renewable energy. Russian aggression has indeed accelerated the efforts to achieve this goal. At the same time, Germany is still forced to continue using coal, even more than planned. This is due to Russia severing its gas exports. However, Ukraine, Germany, and all of Europe survived this winter without Russian energy, the ambassador emphasized.
The diplomat commented on the overall situation with German businesses in view of the war. She noted that business always adapts quickly.
Russia was convinced that Germany was too dependent on Russian gas and on trade with the country in general. This turned out not to be the case. More than half of German companies operating in Russia have already left the market. The German authorities are negotiating with companies that cannot leave the market (and Russia makes the process as difficult as possible) or continue to work in areas not subject to sanctions. Germany is also trying to find a solution to stop supporting the Russian economy with taxes, according to Feldhusen.
The other day, German President Frank-Walter Steinmeier said that over the past year, Germany had managed to reduce its dependence on Russian energy to zero. Previously, it used to reach 36%. As reported, the dependence on pipeline gas reached 55%.