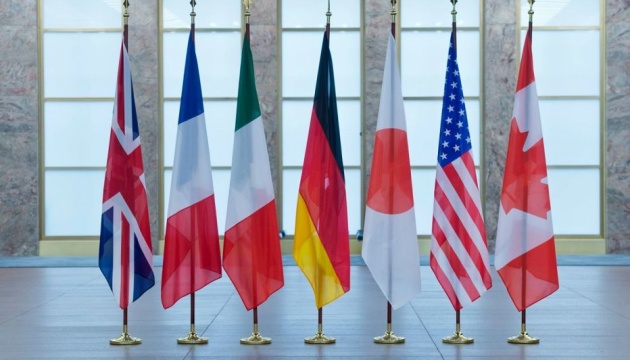 G7, EU ambassadors expect Ukraine to resume e-declaration, anti-corruption program
The ambassadors of the Group of Seven and the European Union expect Ukraine to resume electronic declaration and approve the State Anti-Corruption Program.
This was discussed at a meeting of diplomats with Head of the National Agency on Corruption Prevention Oleksandr Novikov at the residence of the Ambassador of Japan to Ukraine, Ukrinform reports with reference to NACP's press service.
"We are grateful for seeing the approval of the State Anti-Corruption Program as the priority of the G7 ambassadors. The approval of the Program is key to further implementing the Anti-Corruption Strategy of Ukraine, which will help Ukraine save taxpayers up to UAH 200 billion annually and overcome corruption in the areas most affected by it. And this can guarantee transparency in future processes related to reconstruction. The program is aimed at further strengthening anti-corruption institutions in Ukraine and implementing the EU's anti-corruption standards in key areas of social life and the economy. This is another important step on the path of Ukraine's integration into the EU and NATO," Novikov said.
NACP expects the Cabinet of Ministers to approve the draft State Anti-Corruption Program for 2023-2025 in the coming days.
Novikov and G7 ambassadors also discussed the need to resume the declaration of civil servants and the financial reporting of parties.
"Resuming declaration and reporting of political parties are effective tools not only for preventing corruption but also for detecting facts of illegal enrichment and other corruption offenses. This becomes particularly relevant in terms of the accountability of Ukrainian officials for the use of aid funds from partners. And the recent high-profile events in our country demonstrate the need to resume these processes," noted the Head of NACP, adding that the relevant draft law has been under consideration by the Verkhovna Rada since last autumn.
He thanked the representatives of the G7 countries for their comprehensive support for Ukraine. He once again emphasized that Kyiv has all the necessary tools to ensure transparency and accountability in the reconstruction process and receiving assistance from partners. Therefore, the NACP expects the fastest possible support from the Cabinet of Ministers of Ukraine and the Verkhovna Rada in these matters.
In their turn, the G7 and the EU ambassadors expressed clear support for the speedy adoption of the State Anti-Corruption Program and the restoration of corruption prevention tools (electronic declaration and financial reporting of political parties).
In particular, Head of the EU Delegation to Ukraine Matti Maasikas noted that the adoption of the Program "will be an excellent result that can be presented during the Ukraine-EU Summit" on February 3.
The G7 and the EU ambassadors promised to continue supporting anti-corruption reforms, the independence of anti-corruption bodies of Ukraine and also called for taking all necessary steps to ensure an effective and transparent process of receiving international aid during the reconstruction of Ukraine.
ol