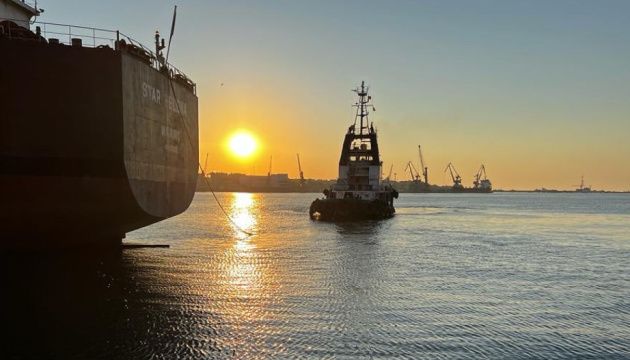 Russia deliberately slowing work of 'grain corridor,' vessels waiting in line for 3-5 weeks - Zelensky
Russia is deliberately slowing the work of the "grain corridor," with ships waiting in line for three to five weeks and several million tonnes of Ukrainian agricultural products not exported every month.
Ukrainian President Volodymyr Zelensky said this in a video address to the TRT World Forum, which is being held in Istanbul, according to an Ukrinform correspondent.
"Now we have more than 13 million tonnes of agricultural products [already] exported, and we can give tens of millions more tonnes. Our ports involved in the export grain initiative are operating at only half capacity. And this is only because Russia is slowing exports, keeping ships waiting for inspections. As of today, more than 80 ships are waiting," Zelensky said.
He said that because of this, hundreds of thousands of people worldwide receive less food, pay more for food, "because one state is blackmailing everyone with food."
"The average waiting time for vessels is 3-5 weeks. Because of this, 2-3 million tonnes of Ukrainian agricultural products are not exported every month," Zelensky said.
He said he was convinced that there is potential to solve this problem, in particular, if several directions of Russian aggression against Ukraine are eliminated and the safety of the Mykolaiv region and its ports is secured, which will be another step towards guaranteeing global food security.
Zelensky added that there would be no food crisis in the world if the Russian fleet had not blocked Ukraine's Black Sea ports.
"The Russian war against Ukraine showed the value of stability in our region. This is one of the historical mistakes made by the Russian leader - with his crazy aggression, he only proved that the security of Ukraine and the Black Sea region is critically important to global security, and any aggression in our part of the world is a global crime," the president said.
He noted that Ukraine, Turkey and the UN jointly stop the threat of hunger, and the Grain From Ukraine initiative helps the poorest countries maintain stability.
In Istanbul on November 17, Ukraine, the United Nations and Turkey agreed to extend the Initiative on the Safe Transportation of Grain and Foodstuffs from Ukrainian ports for another 120 days. The initiative was launched on July 22, and the first ship with Ukrainian foodstuffs left the port of Odesa on August 1.
As many as 531 vessels have exported 13.3 million tonnes of Ukrainian foodstuffs to Africa, Asia and Europe since August 1.