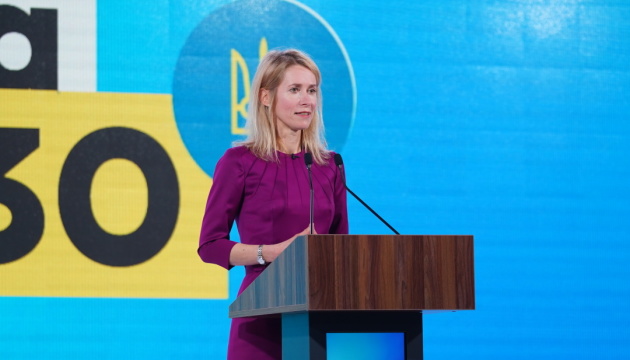 Estonia PM: Price cap on Russian oil important step to support Ukraine
The Prime Minister of Estonia, Kaia Kallas, has praised the agreement reached on Friday on the price cap for Russian oil set at $60 per barrel.
This was reported by ERR, according to Ukrinform.
"Estonia has done serious work to achieve this result, and I am pleased with the agreement reached, because it is an important step that helps support Ukraine and stop the Russian military machine," Kallas said.
According to the head of Estonia's government, initially it was proposed to establish a price cap of $65. There were other ideas, too.
"During the negotiations, it was also about $70. We were able to convince our partners to negotiate a much lower price. Every dollar by which the price cap is reduced means approximately minus $2 billion in Russian revenues. Thus, the fact that we managed to agree on a price that is $5 lower than the original price means that the Russian military machine is $10 billion short," the Prime Minister explained.
She noted that, according to experts, a price of $30-40 per barrel could be very painful for Russia. However, for now, "the best compromise possible today" has been reached.
Kallas noted that Estonia also made a proposal to regularly review the set cap and make adjustments, based on the goal of reducing Russian revenues. "In addition, we agreed on the condition that the cap should be 5% lower than the average market price. I am pleased that our proposals have become part of the agreement and that price cap discussions will continue in the future. Already in mid-January, we will review the price again," said the head of the Estonian government.
In addition, in her opinion, now the allies will immediately start negotiations on the ninth package of sanctions, "since Russia's goal is to plunge Ukraine into darkness through bombing, we must continue decisive actions."
The outlet recalls that on December 5, the ban on the import of Russian oil imported by sea to the EU will come into force. In two months, a European-wide ban on Russian petroleum products will come into force. In sum, all "these steps are already affecting the price of Russian oil" and, according to Kallas, this influence is expected to increase in the near future.
Photo: Forum Ukraine 30