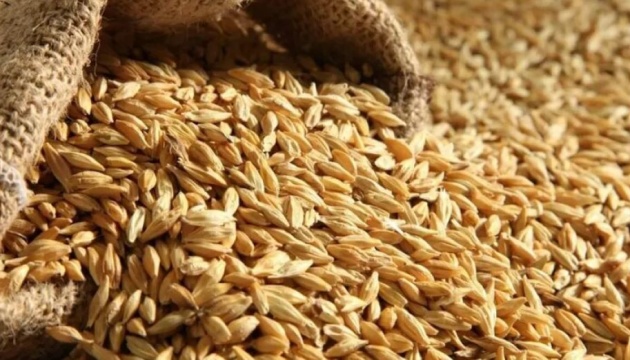 Ukraine buys grain for first two vessels under Grain from Ukraine program
Ukraine has purchased 50,000 tonnes of grain using state funds for the first two ships as part of the Grain from Ukraine program.
Ukraine's Minister of Agrarian Policy and Food Mykola Solskyi said this in an interview with DW, Ukrinform reports.
"These are free deliveries for the recipients of grain [under the Grain from Ukraine program]. Ukraine is beginning, and all others are joining. There will be money and efforts from all countries, but the grain will be Ukrainian. It is bought from Ukrainian traders who, in turn, are already purchasing it from Ukrainian farmers. The grain for two ships was purchased at the expense of Ukrainian state funds, and for other ships it will be purchased at the expense of other countries as a result of negotiations and tenders, on absolutely transparent terms," he said.
According to Solskyi, Ukraine spent UAH 420 million from the reserve fund to purchase 50,000 tonnes of grain. The freight was paid by Japan and Germany. The first two ships will deliver grain to Ethiopia and Somalia. One of the ships has already left a Ukrainian Black Sea port, and the other should be loaded in December.
Countries that can join the process are determined during negotiations between the Ministry of Foreign Affairs of Ukraine, the World Food Program, as well as other African countries - Yemen, Sudan, Congo and Nigeria.
In addition, there is an analysis of the food situation, which shows where it is worst, where there are problems with access to food, where it is logistically possible to quickly deliver agricultural products, because not all of these countries have ports.
"The President of Ukraine talked about the Grain from Ukraine [program], other countries are also joining the initiative. Among them is Germany, which also paid for the freight of the first vessels. The number of ships will increase every month depending on the needs and logistical capabilities, as well as on the extent of the Ukrainian energy infrastructure to work normally," the minister said.
Grain from Ukraine, a humanitarian program that will be implemented in partnership with the World Food Program, was launched on November 15.