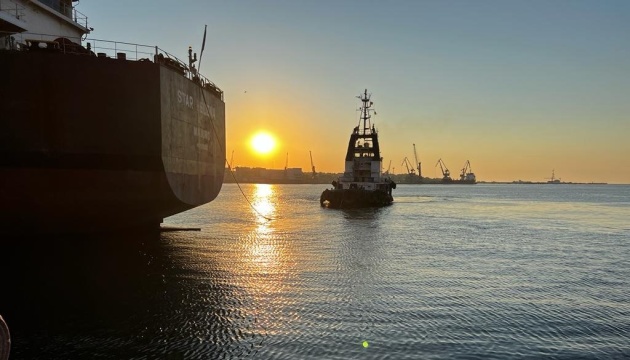 Russia blocks 175 ships operating as part of 'grain initiative' – President of Ukraine
The Russian Federation has already blocked 175 ships expected to leave the ports as part of the grain export initiative.
The relevant statement was made by Ukrainian President Volodymyr Zelensky in his video address, an Ukrinform correspondent reports.
According to Zelensky, the Ukrainian authorities work daily to protect the grain export initiative.
"It is obvious that Russia once again intends to exacerbate the global food crisis, bring back the threat of large-scale famine. And this, in particular, is the responsibility of all our partners – after all, to guarantee food security and put an end to this dirty Russian game with hunger. Currently, due to Russia deliberately slowing down our food exports, the number of vessels waiting for an opportunity to perform contractual obligations has already reached 175," Zelensky said.
In his words, this is not just some trade issue. This is the deterioration of access to food for millions of people and the threat of an even greater increase in prices for basic products in Africa, Asia and Europe.
"If, after all, Russia succeeds in the negative scenario, this will cause a new large-scale migration crisis. Russia as a terrorist state is a terrorist at everything and deserves a daily increase in international pressure on it," Zelensky stressed.
The President of Ukraine expressed gratitude to all leaders and politicians who understand this. In particular, Zelensky thanked the Senate of the Republic of Poland, which officially recognized Russia as a state sponsor of terrorism. According to Zelensky, such decisions should be endorsed by the majority of countries across the globe, as Russia's actions leave no alternative.
Photo: Ukrainian Infrastructure Ministry
mk