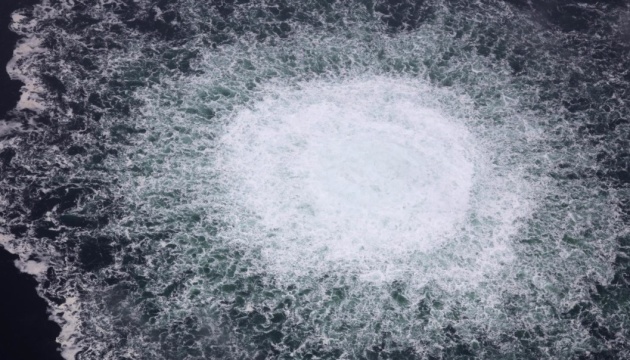 Nord Stream pipes blown up by Russian saboteurs - expert
Russia is responsible for the bombing of Nord Stream pipelines as in this way Moscow sought to avoid fines for refusing to supply gas to the EU, dodge swift nationalization of the pipes by the EU, and rally own electorate.
Andrii Ryzhenko, an expert on military and energy issues, captain 1st rank, deputy chief of staff of the Ukrainian Navy (2004-2020), addressed the issue in a commentary to Ukrinform.
"The Russian Federation carried out the detonation of the Nord Stream 1 and Nord Stream 2 underwater gas pipelines. The nature of damage to the pipes was investigated by Denmark and Sweden, which have appropriate personnel at seismological stations. Their conclusions were that it was an act of sabotage that required approximately 100 kilograms of trinitrotoluene (TNT) for each gas pipe. The West is convinced that Russia has the motivation and means to pull this off," the expert notes.
According to Ryzhenko, the Russian Federation refused to supply in contracted volumes: "But when it comes to contracts, political solutions don't work. Europeans could demand billions in compensation from Gazprom in the event of supply interruption. Therefore, bombing the pipe is a way to avoid fines."
"Another motive is to show who the man is in the house, to intimidate Europe. Although Germany has filled its storage facilities by almost 90% and there is no serious threat of any shortages. And the third motive, since the Russian Federation says that it is at war with the collective West, this sabotage will add images for internal mobilization against the 'insidious' West. And the last motive is that, since the idea of ​​nationalizing both Nord Stream pipes was being considered, Russia could do it just to not let anyone do it," the expert notes.
The former deputy chief of staff of the Ukrainian Navy also said that Russian vessels are often seen in the area. Such explosions could have been set up by underwater saboteurs.
"There is a unit in Russia, called the Main Directorate of Deep Water Research – these are people who are able to conduct such research at great depths (up to 6 km), while gas pipes were laid at a depth of 80 meters. This agency has at its disposal reconnaissance ships and submarines of various classes. It was this agency that owned the Losharik deep-sea reconnaissance boat, which sank in 2019!" Ryzhenko suggested.
As reported, on September 27 three leaks were reported on the Nord Stream 1 and Nord Stream 2 gas pipelines. The incident occurred off the coast of Denmark and coincided with the presentation of the European project Baltic Stream, which allows supplying up to 10 billion cubic meters of gas annually from Norway to Poland, through the territory of Denmark.
NATO allies have said that the incidents at the Nord Stream gas pipelines may be the result of sabotage.
Photo: EPA