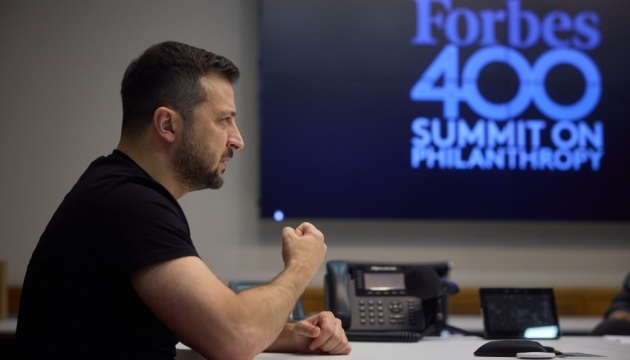 Ukraine could host production of cheap "green" ammonia - Zelensky
President Volodymyr Zelensky said that Ukraine is able to provide opportunities for the construction of capacities for the production of tens of millions of tonnes of pure "green" and cheap ammonia.
The president made the statement while speaking at the Forbes 400 philanthropy summit, Ukrinform reports with reference to the presidential press service.
"The whole world needs fertilizers for food production. Why make or buy them from Russian gas? It is possible to build facilities for the production of tens of millions of tons of pure green and cheap ammonia in Ukraine. You can make money from this and help not only food security, but also peace - peace on our planet," Zelensky emphasized.
Also, the president reiterated the idea that Ukrainian electricity can help replace "dirty Russian energy resources."
The Ukrainian leader added that Ukraine has "tremendous opportunities" in developing f hydrogen energy and transmission of green hydrogen to Europe.
"The sun, wind, nuclear energy, green hydrogen - all this is in Ukraine, and it's not just billions of dollars that can be invested and earned, but billions of dollars that will work to help different countries and peoples - tens of millions of people. New green clean energy requires lithium, graphite and other rare earth metals. We have enough of them. Therefore, by investing in Ukraine, one can accelerate the development of green energy in other countries as well," Zelensky noted.
The head of state also noted that every year, Ukraine generates tens of millions of cubic meters of wood, while ensuring the restoration of its forests.
Therefore, in his opinion, investing in the production in Ukraine of environmentally-friendly goods from wood and cellulose is a way to reduce global use of petroleum products and plastic.
As reported by Ukrinform, President Volodymyr Zelensky discussed with the President of the European Commission, Ursula von der Leyen, the issue of expanding Ukraine's ability to export electric power to EU member states.
Photo: Ukrainian President's Office