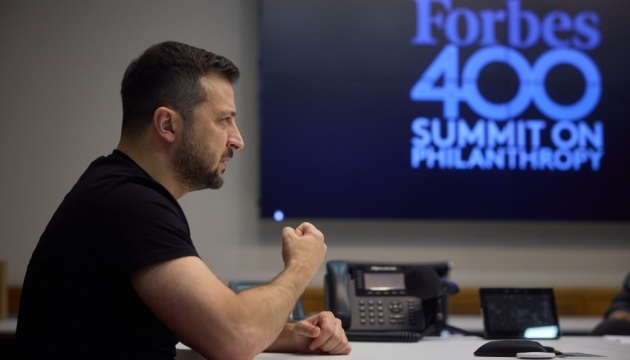 Zelensky: Any company currently operating in Russia indirectly helps evil
President of Ukraine Volodymyr Zelensky has stated that any company currently operating in Russia helps the aggressor state to wage terror.
"When any economic player works with us, it means that the economic potential that he creates with his business helps realize only peace, only peaceful goals. For example, if any company now works in Russia, it indirectly helps evil - at least it pays taxes to the budget of the aggressor state, that is, it supports their economy, which serves terror. Or even supplies something to the Russian army, directly helping the killers," the President said, addressing the Forbes 400 Summit on Philanthropy, the press service of the Head of State informs.
When any state gets carried away with geopolitics and becomes an aggressor, he noted, business can inevitably become an accomplice to this evil.
In this context, Zelensky thanked all companies and business people who left the Russian market.
The Head of State invited the companies to start a business in Ukraine, to localize their production in the Ukrainian territory, "to work with Ukraine in order to have access to the huge markets of the European Union, Britain, Canada and other nations with which we are friends."
Zelensky noted that the priority is given now to the development of the Ukrainian processing industry and invited the investors to join its implementation.
"This is the same process – when investments, when business, when the economy – simply by working – become philanthropy, because they can increase the potential of peace in the world and reduce the potential of aggressors," he said.
The President also spoke about the possibilities of the Ukrainian IT sector, the areas of drone production, agriculture, energy, etc.
ol