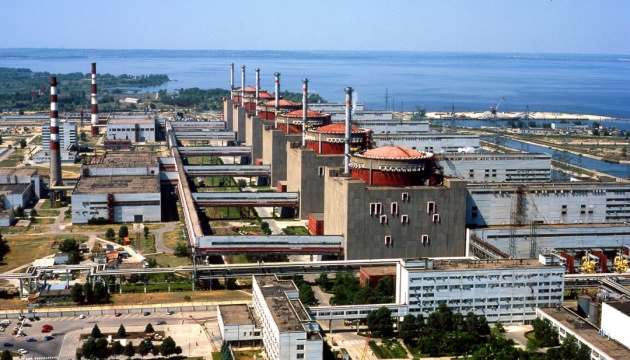 Zaporizhzhia NPP at full stop - Energoatom
The Zaporizhzhia Nuclear Power Plant has put operations to a full halt.
That's according to Ukraine's government-run nuclear operator Energoatom, Ukrinform reports.
Overnight Sunday, at 03:41, power unit 6 of the ZNPP was disconnected from the power network. Preparations are underway for its cooling and transfer to a cold state.
For the past three days, power unit 6 has been operating in 'island' mode, fueling only the ZNPP's own needs at a critically low power level (from 114 to 140 MW), as all communication lines connecting the plant with the Ukrainian power system were damaged due to Russian shelling, Energoatom noted.
Saturday night, after one of these communication lines was restored to its operational capacity, it became possible to power the ZNPP's own needs from Ukraine's energy system of Ukraine. Therefore, a decision was made to shut down power unit No. 6, transferring it to the safest state – cold shutdown.
In the event of repeated damage to the communication lines, the risk of which remains high, the ZNPP's own needs will be powered by diesel generators, whose capacity which is limited.
NAEC Energoatom is taking all possible measures to set up supplies of additional batches of diesel fuel to the Zaporizhzhia NPP to feed the generation if needed.
"In order to prevent an emergency situation at the plant, it is necessary to stop the russcist attacks on the ZNPP's communication lines connecting it to the power system, and to create a demilitarized zone around the plant. After that, the communication lines can be repaired so that the relaunch and safe operations of the plant could be ensured," stressed Energoatom.
Memo. The ZNPP, Europe's largest nuclear power plant, has remained captured by the Russian military since March 4. The invaders have deployed at the ZNPP premises their heavy military equipment and ammunition, shelling the surrounding area.
On September 6, the IAEA presented a report following the ZNPP inspection. The document has confirmed that the Russian military deployed equipment at the plant, including in the engine rooms of its power units.
On September 9, IAEA Director General Rafael Grossi called for the creation of a nuclear safety and protection zone around the ZNPP.