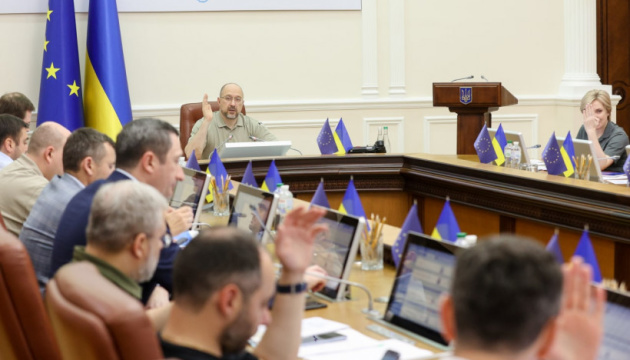 Government approves seizing 903 objects belonging to Russia – PM Shmyhal
The government has approved the seizure in Ukraine of 903 objects belonging to Russia, Prime Minister Denys Shmyhal has stated.
Ukrinform reports this with reference to the Government portal.
"Today, the government has approved the president's decree proposing the seizure of 903 objects belonging to the Russian state. 79 items are corporate rights, 824 items are property," Shmyhal said.
The head of the government noted that all the property is divided into three categories: the property that belongs to the Russian state, the assets belonging to sanctioned Russian citizens and companies, and the assets of Russian banks.
The prime minister emphasized that the seized assets will be converted into funds to be used for Ukraine's defense and reconstruction.
"We do it systematically and in line with all procedures. We do not replace the law with our wishes, but implement this strategic task in a legal way," Shmyhal explained.
According to him, the next step should be seizing Russian assets in the West for the reconstruction of Ukraine.
"Both the government and the President's Office are working on this with teams of the best lawyers and international experts, our partners and allies," Shmyhal emphasized.
As reported, on March 10, President Volodymyr Zelensky signed the Law of Ukraine "On the Basic Principles of Forcible Seizure of Objects of Property Rights of the Russian Federation and its Residents in Ukraine".
The law defines the legal basis for the forcible seizure of property rights (including in cases where military necessity requires so) of the Russian Federation as a state that has started a full-scale war against Ukraine and its residents.
According to the law, forced seizure in Ukraine of property rights of Russia and its residents is carried out without any compensation (reimbursement) of their value.
iy