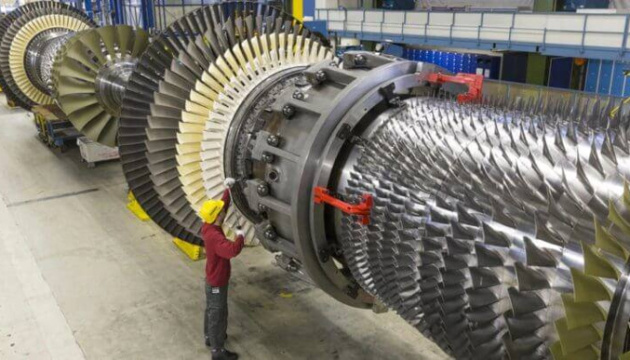 Russian gas turbine return from Canada to Gazrpom "very bad precedent" - Gas TSO of Ukraine
The Canadian government's decision to return to Germany a gas turbine following maintenance works for its further use in the Nord Stream gas pipeline set a "very bad precedent" for an exemption from Russia sanctions.
That's according to Sergiy Makogon, CEO Gas TSO of Ukraine, as reported by Ukrinform.
"Unfortunately, Canada succumbed to pressure and decided to return the turbine to Gazprom. This is a very bad precedent for an exemption from sanctions. But the logic of such a decision is clear," Makogon wrote on Facebook.
According to the CEO, after the turbine is returned, it is expected that Gazprom will fully restore gas transit to Germany (+100 million cubic meters per day), which will allow Europe to continue stockpiling gas for the winter period and, therefore, lead to a drop of gas prices.
On the other hand, the head of the gas transmission system operator is convinced that there is currently no problem with available gas transit capacities to the EU. Therefore, even after the return of the turbine, Gazprom will continue to "blackmail Europe."
"But I believe that even after the turbine is returned, Gazprom will find a reason to further curb supplies to the EU. Because even without this turbine, Gazprom has the opportunity to significantly increase transit: the route through Poland, 90 million cubic meters per day, is completely unused, while through Ukraine, Gazprom uses only 40% of the reserved and paid capacity, which is another 70 million cubic meters per day," says the post.
Makogon expresses confidence that Europe will draw conclusions from this situation, and, that in the very near future, Europe will stop buying Russian gas altogether.
Canada has reportedly decided to return to Germany a gas turbine built in Canada by Siemens Energy AG that was used in the Nord Stream pipeline system. The decision was made despite objections from the government of Ukraine, as well as the large Ukrainian diaspora in Canada, who stressed that returning the turbine would undermine the sanctions regime. Canada's Natural Resources Minister Jonathan Wilkinson said on Saturday that the temporary export permit had been granted after lengthy discussions with European allies as well as the International Energy Agency.