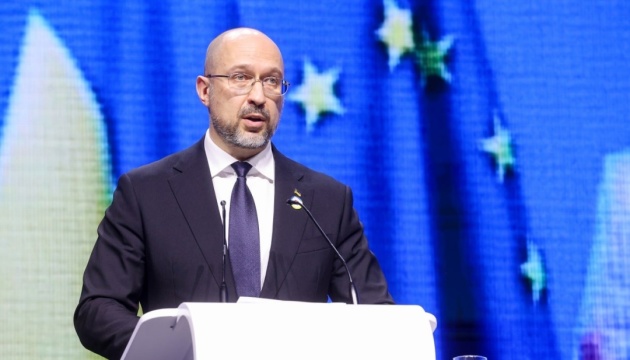 Shmyhal: Agreement reached in Lugano on almost $1.9B in support for Ukraine
Ukrainian Prime Minister Denys Shmyhal has said that at the Ukraine Recovery Conference in Lugano, an agreement was reached on almost $1.9 billion in support for Ukraine.
He said this in a Telegram post, Ukrinform reports.
"During the international conference in Lugano, we not only presented a draft plan for the recovery of Ukraine. We continued to unite our partners for the sake of support and aid to our state right now. Almost 1.9 billion dollars. It was for this amount that agreements were reached in Lugano in support of Ukraine," Shmyhal said.
In particular, according to him, an agreement was reached on $600 million for financial support, more than $500 million for the development of Ukraine's agricultural sector, storage, improvement of logistics, liquidity for enterprises, more than $500 million for preparations for the heating season and almost $250 million for the development of projects on the digital transformation of Ukraine.
"We are grateful to the governments of Switzerland, Sweden, Britain, the World Bank, the EBRD, the EIB, private Ukrainian and international businesses for this solidarity," Shmyhal said.
He emphasized that the coalition of protection and support of Ukraine is bigger and more powerful than ever.
"No one feels 'war fatigue,' as the Kremlin dreams of it. Ukraine will win, because the whole world stands with Ukraine," Shmyhal said.
The Ukraine Recovery Conference was held in Lugano (Switzerland) on July 4-5.
On July 5, representatives of more than 40 countries and about 20 international organizations approved the Lugano Declaration and pledged to support Ukraine.
According to the Ukrainian government, the Ukraine recovery plan is already estimated at $750 billion.