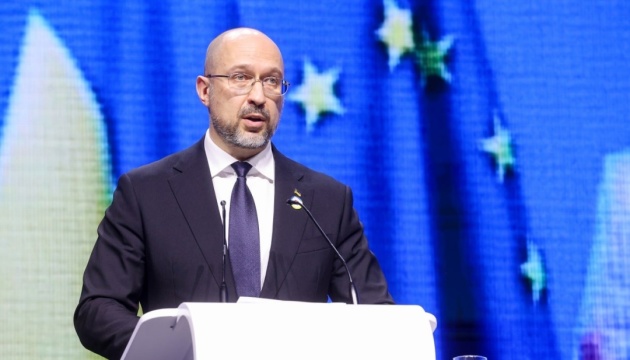 Ukraine's post-war reconstruction to consist of three stages – PM Shmyhal
Ukraine's reconstruction plan consists of three stages, and thousands of rebuilding projects will need to be implemented after Ukraine wins the war.
The relevant statement was made by Ukrainian Prime Minister Denys Shmyhal during the Ukraine Recovery Conference in Switzerland's Lugano, an Ukrinform correspondent reports.
"Ukraine's reconstruction plan is divided into three key stages. The first stage is to renovate here and now what is possible and what is vital for the lives of people. […] The second stage is a quick recovery, as the number of even the core infrastructure facilities destroyed is huge. Thousands of rebuilding projects will need to be implemented immediately after hostilities end and Ukraine wins the war," Shmyhal told.
In his words, the second stage refers to the repair of schools, hospitals, the construction of temporary housing, the revival of the settlements and communities destroyed.
"The third stage of this plan is a long-term transformation related to all areas, from education and medicine to 'green transition' and a new military and industrial complex," Shmyhal noted.
Shmyhal stressed that the basis for Ukraine's recovery are people, economy and infrastructure.
The Prime Minister of Ukraine also mentioned that the National Council for the Recovery of Ukraine had drafted 24 volumes of developments. Over six weeks, more than 3,000 Ukrainian and international experts, officials, members of Parliament developed "thousands of pages of what kind of country we are building and how we will restore Ukraine."
Shmyhal also stressed that, 130 days into the full-scale invasion, Russia failed to achieve any objective it had set when unleashing the war against Ukraine.
mk