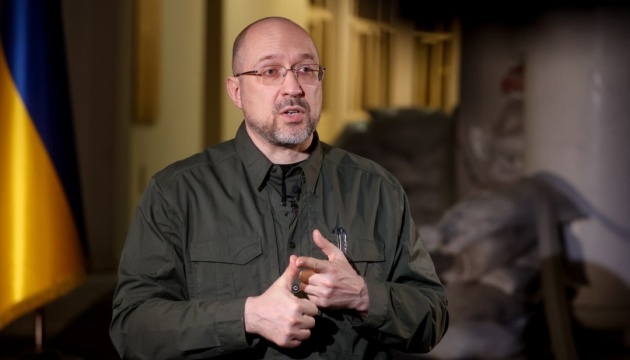 NBU ups key rate to 25% without consulting gov't - PM
Prime Minister Denys Shmyhal said the National Bank of Ukraine did not take the opportunity to discuss the decision to raise its key rate to 25% and its long-term effects before passing it.
Shmyhal spoke of this in an interview with LB.ua, Ukrinform reports.
"Unfortunately, when making the decision on 25% (key rate - ed.), the National Bank didn't take the opportunity to convene the Financial Stability Board to discuss the issue and its long-term effects on our country's economy. We, as government, would gladly participate in such a meeting of the Financial Stability Board. The National Bank had, has, and will have this option on the table, and, of course, I urge the National Bank, when making such fateful decisions, to convene the Financial Stability Board and involve the government for more coordinated joint work," PM noted.
At the same time, Shmyhal believes that there is no tension in the Cabinet's relations with the central bank.
"I repeat once again: the National Bank is an independent regulator, but I have always called for joint, coordinated work and will continue to do so. We have all the tools to this end, so we did not send any signals – neither on the surface nor underwater – to anyone. Our only call is that amid the war, the approach to decisions affecting the economy must be coordinated and balanced," the head of government added.
The NBU's key rate is a monetary instrument, with the help of which the National Bank establishes for commercial banks a benchmark for the cost of attracted and placed monetary resources. The key rate is the lowest among the NBU's interest rates, being the basic indicator for assessing the value of money.
As reported, on June 2, the Board of the National Bank increased the key rate from 10% immediately to 25% per annum.