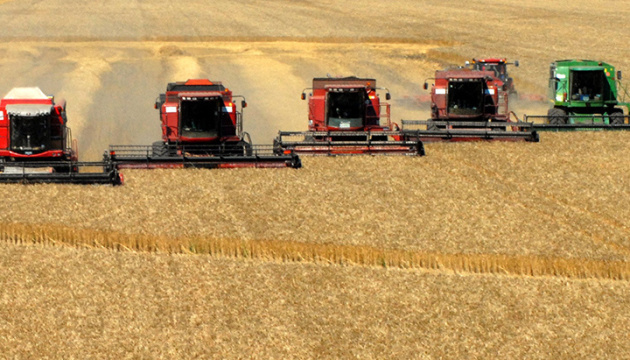 Government preparing for harvest after most difficult sowing campaign in history - Shmyhal
Ukrainian Prime Minister Denys Shmyhal has said that the Cabinet of Ministers is beginning preparations for the harvesting campaign, taking into account the challenges facing farmers.
He said this in a Telegram post, Ukrinform reports.
"The sowing campaign, despite unprecedented challenges, was successful. According to the Ministry of Agricultural Policy and Food, 75% of last year's areas have been sown," Shmyhal said.
He added that as part of the "5-7-9" program of soft loans to support agricultural producers, banks had issued UAH 38.5 billion, including UAH 24 billion allocated under the program of state portfolio guarantees.
"Now we are starting preparations for the harvest. And we understand the main challenges facing farmers now. The first challenge is the need to export crops. The Ministry of Infrastructure is working on measures to increase capacity on the western border of Ukraine. After all, due to Russia's blockade of Ukrainian ports, we have 23.5 million tonnes of grain and oil-bearing crops left," Shmyhal said.
The second challenge, he said, is to preserve the new harvest.
"The Ministry of Agricultural Policy is considering creating mobile storage facilities, taking into account international experience. This will allow Ukraine to increase storage volumes by 10-15 million tonnes," Shmyhal said.
He also drew attention to the issue of providing fuel for farmers.
"During the meeting, I instructed the concerned ministries and civil-military administrations to provide the necessary amount of diesel fuel for the harvest season. The government has taken all possible measures to successfully carry out the most difficult sowing campaign in history. Now we have to carry out the harvesting campaign no less successfully," Shmyhal said.
Russian President Putin declared war on Ukraine on February 24 and launched a large-scale invasion of Ukraine. Russian troops are shelling and destroying critical infrastructure and shelling residential areas of Ukrainian cities, towns and villages using artillery, multiple rocket launchers and ballistic missiles.