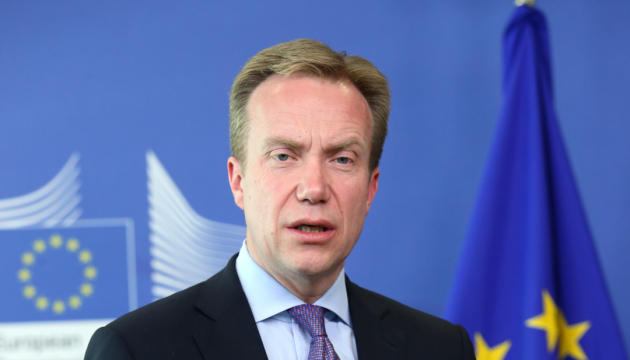 WEF President roots for Marshall Plan for Ukraine
President of the World Economic Forum Borge Brende has urged the international community to adopt a Marshall Plan for Ukraine.
He addressed the issue in an interview with the German newspaper Süddeutsche Zeitung, Ukrinform reports.
"Even without a peace agreement, which is unlikely at the moment, we must begin work on reconstruction, at least in the territories under Ukraine's control. We need a Marshall Plan for Ukraine," Brende said.
The WEF President clarified that It concerned infrastructure, electricity, schools, roads, and bridges.
Brende said he wanted to extend the call for such a plan at the World Economic Forum Annual Meeting in Davos, which begins on Monday.
The President of the World Economic Forum wants to engage business leaders in the plan: "For this purpose, we will also bring company executives together under the slogan "Director-Generals for Ukraine". He added that the private sector should play an important role in rebuilding the country.
The new chair of the forum said that Russian companies and politicians were not invited to Davos because of the war against Ukraine. "Russia will return if they comply with international law again," he said.
It was reported that almost 2,500 participants from politics, business and society will discuss pressing international issues, including those related to the war in Ukraine, at a four-day meeting in the Swiss Alps. President of Ukraine Volodymyr Zelenskyy will address the forum attendees via video link.
After World War 2, the United States invested billions of dollars in rebuilding Western Europe. The Marshall Plan was named after then-Secretary of State George C. Marshall.