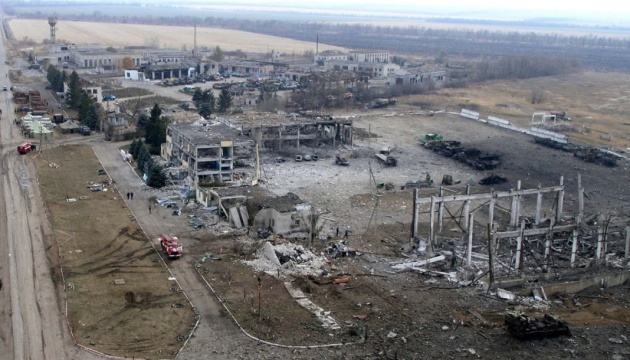 Ukraine's losses due to war grow to $564-600B
Over the past week, direct losses to Ukraine's economy due to the destruction and damage of civilian and military infrastructure, recorded in open sources, increased by $12.2 billion.
As of April 11, the total amount of documented direct infrastructural losses, based on public sources alone, has already reached $80.4 billion or UAH2.4 trillion.
This data can be found in the analysis carried out within the Russia Will Pay Project run by the analytical unit of the Kyiv School of Economics (KSE) and volunteers from partner organizations, including the Center for Economic Strategy, Dragon Capital, Anti-Corruption Headquarters, Institute of Analytics and Advocacy, Transparency International Ukraine and Prozorro.Sales.
According to the joint estimates of the Ministry of Economy and KSE, the total losses of Ukraine's economy due to the war, taking into account both the direct losses calculated within the project and indirect losses (GDP decline, investment cessation, labor outflow, additional defense and social spending) range from $564 billion to $600 billion.
In total, within the 47 days of Russian aggression in Ukraine, at least 23,000 kilometers of roads, 37,000 square meters of housing, 319 kindergartens, 546 educational facilities, 205 medical institutions, 145 factories and enterprises were damaged, destroyed, or captured. In addition, at least 54 administrative buildings, 277 bridges and bridge crossings, 10 military airfields, eight airports and two ports were destroyed.
As of April 8, at least 74 religious and 62 other cultural buildings were damaged, destroyed, or seized.
Residential real estate saw the largest spike in the amount of losses in the current week, which was caused by both the increase in destruction and clarification of preliminary data on the destruction that occurred earlier, as well as certain adjustments in the valuation methodology.
Amother major reason for growth in damages is the loss of assets of enterprises. The updated calculations also specified the cost of health care facilities, taking into account the structure of these facilities in terms of types (hospitals, clinics, clinics, laboratories, etc).
The analysis of direct losses inflicted on industrial facilities and publicly documented shows that metallurgy and coke factories, oil refineries, as well as the mechanical engineering industry suffered the most.
According to project analysts, the total amount of documented direct losses of the industry reached USD 6.25 billion as of April 11.
It is noted that the Russia Will Pay Project focuses on assessing the direct loss of Ukraine's physical infrastructure as a result of the war. This is about the destruction of residential buildings, utilities, roads, railway infrastructure, educational and medical facilities. The project also estimates the financial value of these losses.
The Kyiv School of Economics states that the project does evaluate total economic losses, including direct infrastructure losses and 'side' damage sustained by the economy. In particular, the closure of a significant number of enterprises, loss of hundreds of thousands of homes and jobs, cessation of investment, and reduction in consumer demand.
As Ukrinform reported, on February 24, Russian President Vladimir Putin launched a full-scale invasion of Ukraine. Russian troops have been shelling and destroying key infrastructure and households.
Martial law was imposed and general mobilization was announced in Ukraine.