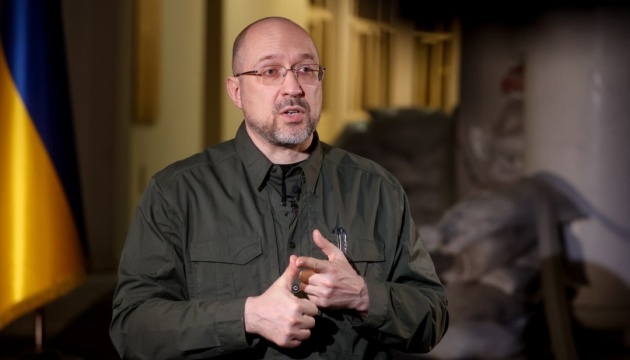 Each day of war with Russia costs Ukraine up to $4B - PM Shmyhal
Ukraine's daily expenditures related to the war with Russia amount to about UAH 2 billion, while the total daily losses incurred by the country due to destroyed infrastructure and loss of economic potential amount to $4 billion.
This was stated by Prime Minister Denys Shmyhal, who spoke at the national telethon, Ukrinform reports.
"There is how much a day of war costs in terms of national budget spending, how much we pay, and how much we need. We should say this figure is around UAH 2 billion. This is what it costs us in terms of fighting, paying allowances, etc.," the head of government said.
At the same time, Shmyhal explained that Ukraine's total daily losses are over $4 billion. "This is a day of the war in terms of the destruction of our infrastructure, loss of economic potential, loss of future GDP," Shmyhal added.
Earlier, Shmyhal said that the Cabinet had already begun work on developing a conditional Marshall Plan aimed at restoring Ukraine.
It is planned to rebuild Ukraine in the post-war period primarily at the expense of reparations and assets seized from Russia.
On February 24, the Russian Federation launched a new phase of its war against Ukraine – a full-scale invasion: Russian occupiers have been shelling and bombarding peaceful towns and villages across Ukraine, torturing and killing civilians.
The United States, the European Union, and other democracies have imposed and continue to impose sanctions on Russia.